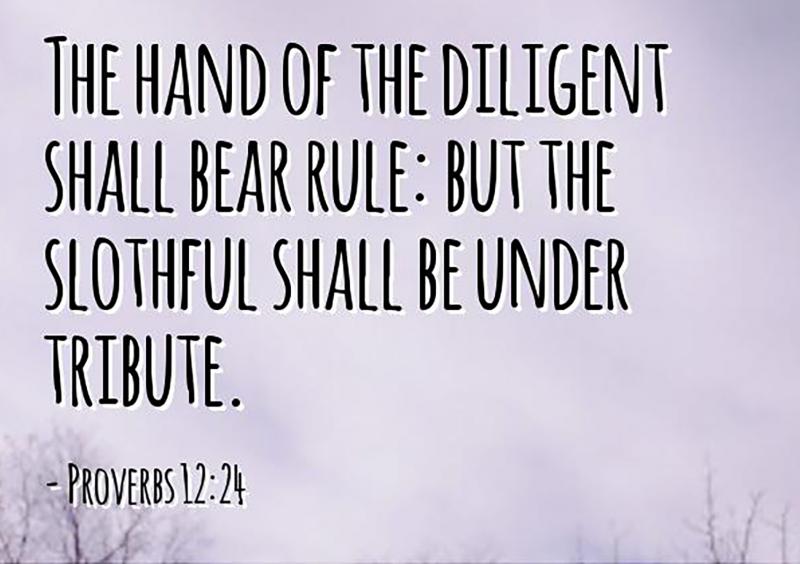 Complimentary Story
The Bible says that "The Hands of the Diligent Shall Rule!" Idle people don't rule. They don't have much to say about anything. As a matter of fact, the opposite of diligence is laziness. But one who is diligent of a "great price." They will get the best jobs. They will make the most money. They will be the boss over others. They will reign and even rule a country. Who would want to hire a lazy person or have them rule a country? No one would!
Diligence people may lead countries in the army, also. Did you know McArthur won the battle with the Chinese Army? He won it quite quickly! He was the one who said, "There is no substitute for Victory on War. You must fight to win." If you give up easily, you would be better off to not even get involved in a war. Diligent people don't give up easily in what they want to accomplish in life! They press on to that goal. They are persistent!
It is often advisable to stay with what you know best! I am a teacher and that is what I know best. Now as I am older, I don't teach in a classroom, but I teach in homes with the Home and Hospital program and I foster 18 year olds. I know children, teenagers, and I have a strong compassion for the poor and young adults, who don't have parents. I want to make their lives better. I help them with their school work and getting a job, etc. I feel I have PURPOSE!
Purpose is important to me at any age. We should plow with what we know best, but sometimes one does like it to change somewhat. Certainly some speakers are great at book writing, and other works that may vary, especially in their field of interest. I am also a writer and often write on teaching things that I have learned as I journeyed on my teaching career.
It's good to keep on using your mind or working by the "sweat of your brow." The Bible says in Proverbs 14:23 "In all labor, there is profit." I don't think it just means profit of money! Children are getting lazier and lazier as they play video games and on their cell phones. Encourage children to be diligent and let them know and experience the rewards of being "diligent!"
The Bible says in Proverbs 13:4 that the "Diligent shall be made rich!" It will pay off in finances as well as a satisfaction of accomplishment. You will feel you a Person of Purpose!
Lastly, Hebrews 4:11 says, "Let us therefore be diligent to enter that rest (7th day rest), lest anyone fall according to the same example of disobedience." God expects us to be diligent in labor or work for 6 days and then rest as He did on the 7th day. The body needs a rest! The mind needs a rest. Take a day of rest. You will be better able to be diligent the 6 days of the week! God will be pleased with this lifestye! He is never pleased with laziness!