MILWAUKEE, Wis.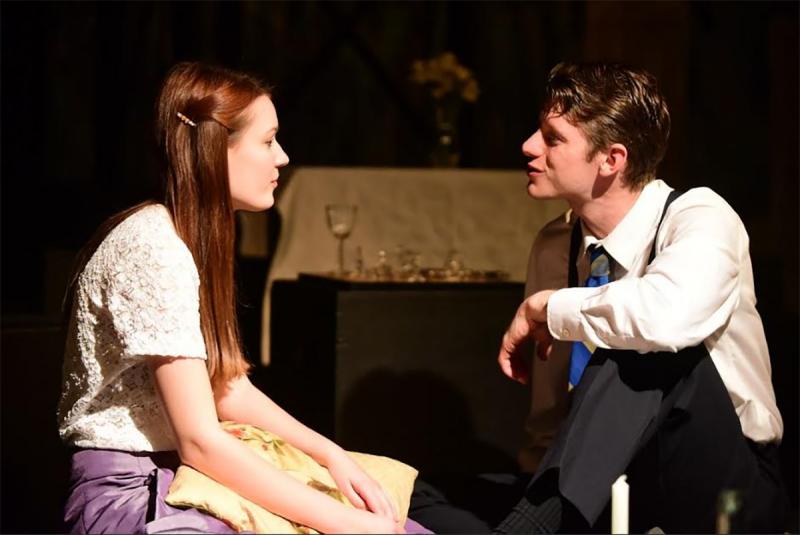 Complimentary Story
I'm not oblivious to the fact that before I was a Christian, it took a dramatic presentation to get through to me so that I could see the loving, ever-present reality of Jesus. It was at a Fellowship of Christian Athletes summer conference in Minnesota at St. Olaf College in 1977, and the dramatic presentation was of artist Bill Leach depicting in backlit chalk watercolors the almost-palpable events of the Crucifixion and Resurrection. The artistry and music and lighting, combined with the voice acting of a radio news reporter on the scene and the witnesses he encountered, finally made Jesus real to me.
It strikes me now that I have come full circle, as often happens in the Christian journey -- not so much a repetition, but a continuous calling back to God's presence and lovingkindness through His Word, His fellow believers and the talents they share with the world to His Glory.
And so, thinking back to that transforming drama I witnessed, I now realize that I write for
Wisconsin Christian News
for the first time as a working member of the broadcast press for public radio, an announcer for a Christian radio and television network ministry, and as someone recently called again to serve the Lord through talents He gave me in acting as well.
That search to do soul-reaching drama and comedy, that only the spoken word combined with music and light can do, has lead me on a journey over the past few years of re-locating in Wisconsin back in 1982 when I first became an on-air television news reporter in Green Bay straight out of college.
Performing in plays, comedies, mysteries, and dramas -- be it on stage, radio, or in dinner theater -- always comes with the following two questions: does this glorify the Lord? And, Can I honor Christ even in a secular setting?
One of the touchpoints, meeting other believers by chance, has happened in spades as I've come into contact with Christian directors, actors, crew, some even being on the national level. It's been an unexpectedly full-time blessing for a part-time, after work avocation.
The largest blessing easily came just last month when I happened to audition for a play Jessica Sosnoski is directing in Hartland, Wisconsin and then experience her Christian theater company's presentation of the classic Tennessee Williams play
The Glass Menagerie
at a small bistro venue in downtown Milwaukee (not to be confused with a professional presentation of the same play this month in Milwaukee).
I was only vaguely familiar with Sosnoski's new (to Wisconsin) Company of Strangers drama group, named in part for the group of freed Israelites seeking the Promised Land.
Seeing it in action was an eye-opener. Behind the very moving acting, remarkable set design, and magnetic presentation of the familiar work about a young woman trapped in her isolation and near idolatry gaining-of-comfort in a collection of crystalline animal figures, and her brother trapped by his thirst for success, Sosnoski's direction and commentary brought hope from hopelessness, light from the darkness of a stage, and salt to season a secular play with Scriptural insight.
Sosnoski grew up in Virginia as a homeschooled preacher's daughter and eventually met and married another homeschooler, who later attended Liberty University's undergraduate and graduate programs in the field of law. They both founded The Company of Strangers in 2009 there, with the theater's slogan being "Drawing Biblical Truths from Secular Plays," marking its true essence of providing quality theatrical productions from a theological perspective that includes "the nature of man, the meaning of life and death, the love and mercy of Christ, and the justice and equity of God's law."
That was never more clear to me than in the presentation of Glass Menagerie, which started not with stage dialogue but with the actors and audience being led in prayer, followed by Sosnoski giving the audience a Scriptural and artistic overview of the first half of the play to come. That was followed at intermission by Sosnoski delivering a Scriptural analysis for the concluding half of the play. Drama, as in real life, can be bleak stuff, and the Christian walk, especially when being in the world and not of it, is not always easy.
Sosnoski has experienced some of that in the course of her dramatic endeavors, both in the Company of Strangers' successful run in Virginia, and now in its new entry this past year in Wisconsin, as well as while being actress under others' guidance.
She's had actors threaten to quit over swears words being removed from classic plays and arguments about whether or not to pray or read Scripture before the production. There have been times when she had to tell cast members to leave and return with unrevealing and modest attire, and there have been other times she has had to monitor public displays of affection that were inappropriate. She has also made it her mission to keep cast and crew members talking openly with each other, playing mediator or calling together group discussions above and beyond rehearsal times to resolve issues, to prevent against gossip, pride, and backbiting, which for whatever reason tends to be a chronic spiritual illness in the art community. In line with the call to be all things to all people as a patient witness and embracer of diversity, Sosnoski welcomes and encourages all races, religious beliefs, political persuasions, and walks of life to participate as cast and crew members.
Thus, perhaps being a Christian in this environment might not be as "safe" a place as some other Christian groups that screen members and participants. The only requirement is that all participants adhere to the Company Covenant of Agreement, which all members must sign and abide by during their time on the production, which includes no compromise on the subject of immodest dress, public displays of affection including kissing, profane language, gossip, and disrespect. Furthermore, in accordance with Scripture, The Company will never perform a play that encourages or condones homosexual agenda, fornication, or promiscuity.
"Art has two components: form and content," says Sosnoski. "Christians have been so worried about making sure the content is God-honoring -- the storyline, the themes -- that they forgot to make sure the acting is done with excellence. And then the world, on the other hand, has been so worried about making sure the acting and delivery is spot-on, they are willing to do anything on stage no matter what message it is giving. They sacrifice the content for the form. If God is Lord of all creation, He is Lord of the themes as well as the beauty -- the content AND the form. It's time to reclaim both aspects of theater into a blend that is so perfectly and beautifully balanced that people can't help but see superiority in our work, because we have sacrificed nothing but our all for Christ."
Let's keep her and The Company of Strangers in our hearts and prayers as another ministry willing to pay any price to share the Gospel and its searing reality through the backdrop of transforming entertainment for Jesus.
There are many ministries out there willing to pay any price to share the Gospel, and while prayer for their growth and stamina is crucial, it is not enough without action. Learn how you can become part of the mission to transform entertainment for Christ with The Company of Strangers Theater ​at
TheCompanyOfStrangersTheater.com