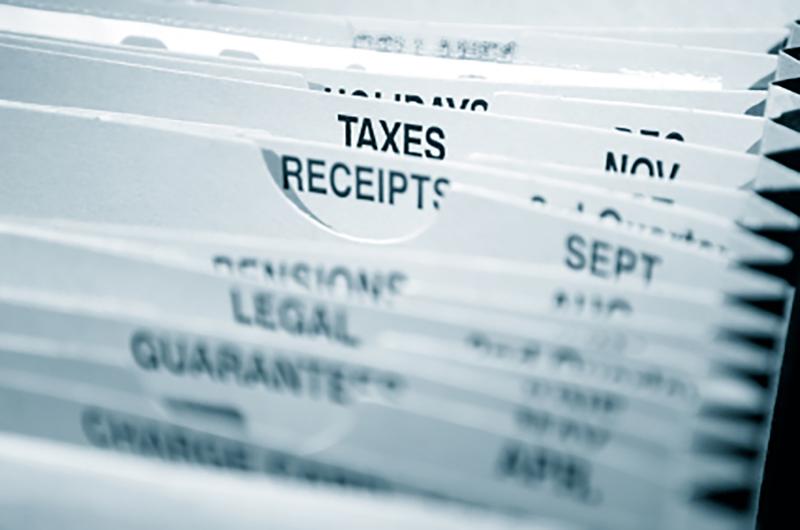 Complimentary Story
A wise man thinks ahead; a fool doesn't.
Proverbs 13:16
We all want to leave this world with our financial affairs in order.
No one wants to leave a collection of financial mysteries for our spouse or our children to solve. Heirs typically spend days, weeks, and even months searching for a decedent's financial and legal documents. Savings bonds, certificates of deposit, and life insurance policies have often been discovered years after a loved one passes.
There's no doubt you'd like to spare your heirs from this predicament. One helpful step is to create a "final file." Perhaps it's an actual accordion or manila folder; maybe it's a file on a computer desktop, or documents secured within an online vault. The form matters less than the function, and the function is to provide your heirs with the documentation and direction they need to settle your estate.
He who is faithful in a very little thing is faithful also in much; and he who is unrighteous in a very little thing is unrighteous also in much.
Luke 16:10
What should be in your "final file?"
You definitely need a copy of your will and copies of trust documents. Place the names of a durable power of attorney and health care proxy in the file as well; this information may need to be accessed
before
you die.
Copies of insurance policies should be included – not only your life insurance policy, but also your home and auto coverage. A list of all financial accounts in your name should be kept in the file, in addition to sample account statements with account numbers, usernames and passwords, for the purpose of easily accessing these online accounts.
Social Security benefit information should be compiled as essential for your spouse. Should you happen to receive a pension from a former employer, your heirs need to know the particulars.
Additionally, they should be able to access documentation pertaining to your real estate. If you have a safe deposit box, at least one of your heirs should know the location of the key in order to forego the hiring of a locksmith. Along those lines, the combination to your home safe should be disclosed. Provide such information only to those heirs you trust or to an attorney.
Contact information should also be inside the "final file." Your heirs will need to know the email address or phone number of the financial professionals you have consulted, attorneys you have used for estate planning or business advice, and insurance professionals with whom you have maintained relationships.
Be sure to include credit card information, vehicle titles, and cemetery/burial information, as well as social media and e-commerce passwords for social media sites. Some sites may require a copy of your death certificate or obituary notice before allowing another party to access your profile. You may also wish to leave a letter or note instructing your heirs on how to notify the world of your death.
1
Your heirs will want to supplement your "final file."
The most important supplement may be your death certificate. Your heirs will need several copies of this document, particularly if your business or financial situation is involved.
A "final file" may save both money and time.
If documentation is scant or unavailable, settling an estate can become prolonged. As National Academy of Elder Law Attorneys President Howard Krooks told Reuters, "It could be six months or longer if you don't have the paperwork in order." In the worst-case scenario, probate consumes 5% or more of an estate.
2
Consider another step to save money and time.
Add the name of an heir to a key bank account to allow the payment of a hospital bill or a mortgage on your behalf.
2
Tell your heirs about your "final file."
They need to know about both its creation and location. It will do no good if you are the only one who knows those things when you die.
Compile your "final file" gradually.
Use your next account statement, income payment, or real estate or insurance newsletter as your cue to tackle and scratch off that particular item from the "final file" to-do list. Although it takes work, this file is necessary, and your heirs will thank you for your effort.
Plans fail for lack of counsel, but with many advisers they succeed.
Proverbs 15:22
Submitted by Patrick Wallschlaeger, CEO, Midwest Professional Planners, Ltd., a Registered Investment Advisor. You can write to him at 2610 Stewart Ave. Suite 100 Wausau, WI 54401, or call him at 1-800-236-6775.
Investment Advisory Services offered through Midwest Professional Planners, Ltd. ("MPPL"), 2610 Stewart Ave., Ste. 100, Wausau, WI 54401, 1-800-236-6775, an SEC-registered investment advisor. Securities products involving commission or transaction based fees are offered through Comprehensive Asset Management and Servicing, Inc. ("CAMAS"), 2001 Hwy 46, Ste. 506, Parsippany, NJ 07054, 1-800-637-3211. Member FINRA/SIPC/MSRB. MPPL is independent of CAMAS.
Citations.
1 - marketwatch.com/story/13-steps-to-organizing-your-accounts-and-assets-2016-03-03 [3/3/16]
2 - reuters.com/article/us-retirement-death-folder-idUSKBN0FK1RW20140715 [7/15/14]