MILWAUKEE, Wis.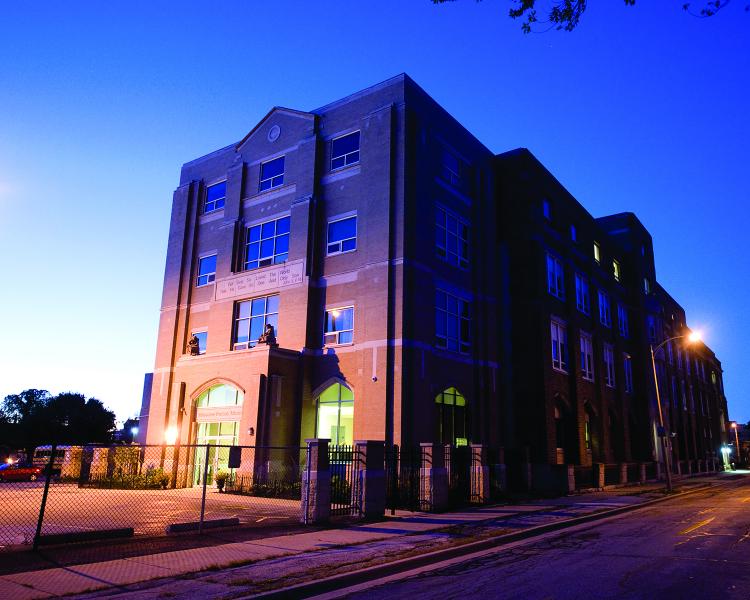 Complimentary Story
The Milwaukee Rescue Mission is celebrating 124 years of service this year. Founded in 1893 by area churches and businesses, the Milwaukee Rescue Mission (MRM) has served the hungry and hurting in Milwaukee for over a century. The shelter provides nutritious meals, safe shelter and warm clothing to men, women and children in the city all year.
However, the Milwaukee Rescue Mission is about more than a bed and a meal. As a Christian organization, MRM seeks to help their guests experience life transformation through a personal relationship with Jesus Christ. In addition to emergency services, their long-term programs focus on developing all aspects of a person, from their budgetary and job habits to their spiritual walk with God. Rehabilitation programs for men and women include education, job training, counseling, addiction recovery, biblical instruction and life-skills classes. Guests also attend chapel and Bible studies while they stay at MRM.
Homeless men can find shelter and long-term aid through Safe Harbor, while Joy House helps homeless women with children. In addition to shelter programs, the Milwaukee Rescue Mission's school, "Cross Trainers Academy," educates more than 260 children at MRM's North Campus, located in the 53206 zip code. "53206" is known as the poorest zip code in Milwaukee and has the highest rate of adult male incarceration in the nation. And, the community surrounding MRM benefits from their Equip Department, which provides tutoring for children, holiday meal baskets and Christmas gifts to families in need.
Keith's Story
Looking back, I kind of felt lost as a kid," says Keith. "I'm the oldest of 15 kids, and my mother was busy working or taking care of the younger children, unable to pay much attention to me. And I never knew my father. I felt abandoned at a young age."
Without parental attention or direction, Keith started "playing hooky" from school, and he was smoking marijuana by the age of 12. "Doing the drugs gave me something to do," he recalls. "Nobody ever bothered me. And I got a lot of respect with older people." He dropped out of school in 10th grade and never graduated.
But Keith could never seem to get his life on track. He worked occasionally, partied a lot, hung out on the streets, and by his late 20s he had fathered three kids, whom he abandoned, and had an out-of-control addiction to cocaine and PCP. "I had no business being a father or a husband. I was too irresponsible and unfocused. I always felt defeated, and I became more and more depressed," he says.
By 2003, Keith was homeless, sleeping in crack houses, under bushes, under the expressway, or at a spot he found by the county jail. He came to the Milwaukee Rescue Mission in 2004 and got sober. But he soon relapsed. Three months later, God brought Keith back to MRM. There would be no more relapses. He says the love of God that he experienced here -- through staff -- healed the emotional wounds he'd carried since childhood and filled all the abandoned areas of his heart and soul.
Today, Keith works full-time for the Milwaukee Rescue Mission. What he enjoys most is interacting with other men seeking help here. "These guys need someone, just like I did," Keith says. "I get the greatest feeling of love here. Love is my addiction now."
Lannette's Story
Lanette is a good mother. She loves her two children. They do well in school.
For ten years she lived in a stable, happy home with the man she loved. She liked her job where she had worked for thirteen years and felt secure.
But then her man turned to drinking more and more and that relationship quickly ended.
She met someone else and liked him, but in a short time he became brutal and mean. She gave herself hoping to change the man, but she couldn't. It took her two years to be free of him. He left deep scars in her that made trusting others hard.
On top of this, her job that was so stable came to end and she was laid off. Without money, she lost her home and everything in it. Her parents could take her and the children for a while, but not forever. Within a year, she was homeless.
Her life had turned upside down. All she relied on was gone. Now she feared for herself and her children.
She thanks God Joy House was there for her.
Joy House allowed her to soak in the care of loving people. Just by glancing at her, the staff knew what she was feeling. And they knew enough to come and sit with her and hold her hand and ask her what was wrong. Above all, they knew enough to take those problems to God in honest prayers that brought tears to Lanette's eyes.
She experienced healing in this safe place. She reads the Bible and meets with other ladies here who support each other. All have known deep loss and suffering. Together they open up to God and feel his goodness.
Lanette is experiencing the freedom that comes from knowing she doesn't have to fix everything all by herself. God is at work in her life. He is giving her rest, and that makes her feel truly secure.
Lanette now helps other women experience the healing she did. And she recently got engaged to her former childhood friend!
"And when they heard that the Lord was concerned about them and had seen their misery, they bowed down and worshipped."
(Exodus 4:31).
Lives Transformed
The stories of men like Keith and women like Lanette are common at the Milwaukee Rescue Mission -- neighbors in need who found a fresh start at the Milwaukee Rescue Mission, who came to know Jesus Christ through their time in the shelter. Many of these men and women will go back into their communities and become godly influences to those around them -- all thanks to the support of friends of the Milwaukee Rescue Mission.
The programs of the Milwaukee Rescue Mission are wholly supported by contributions from individuals, businesses, churches, foundations and special events. Since their shelter programs do not take government funding, they rely on the generosity of members of the community to enable their ministry to continue.
MRM is open 24 hours a day, 7 days a week, 365 days a year. Those looking to engage with the Milwaukee Rescue Mission's ministry can donate monetary gifts, items of need or volunteer their time. More information can be found at their website,
www.milmission.org.