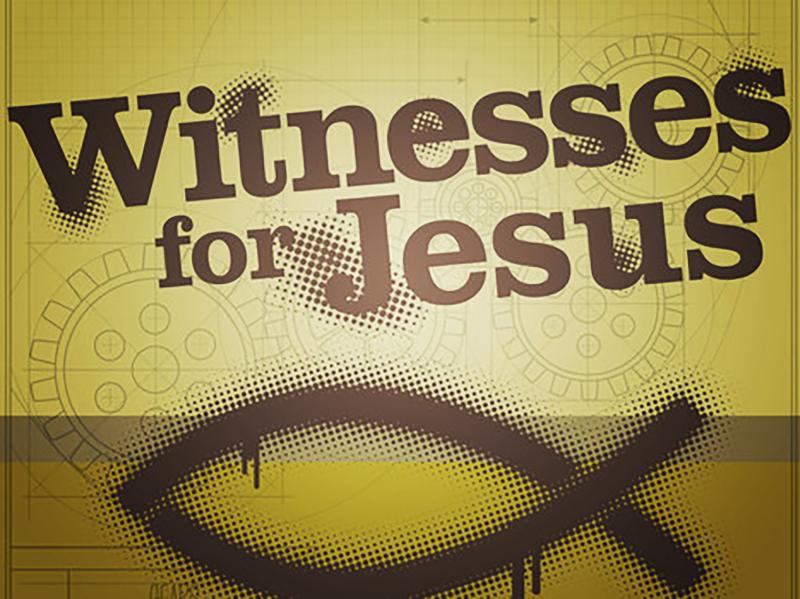 Complimentary Story
Acts 1: 7-8, "He said to them: 'It is not for you to know the times or dates the Father has set by His own authority. But you will receive power when the Holy Spirit comes on you; and you will be My witnesses in Jerusalem, and in all Judea and Samaria, and to the ends of the earth.'"
Jesus promised us power when a person becomes a true believer in Christ, and we now have the Spirit of Truth in us. This means every believer has truth in them because you are indwelt by the Spirit of Truth. Most of us witness to the people around us, our "Jerusalem," and through relationships we have with people at work, in our family, neighbors, etc., people can see the difference in us because we have the Holy Spirit in us.
The fruit of the Spirit, (Galatians 5), should be evident in our lives. A good book to read to help us walk in the Spirit is the Practice of Godliness, by Jerry Bridges. We should also live and breathe Christ's righteousness in our lives, which will stand in stark contrast to the immorality that we see around us. We should not be afraid to be righteous because Jesus said in Matthew 5: 13-16, "You are the salt of the earth. But if the salt loses its saltiness, how can it be made salty again? It is no longer good for anything, except to be thrown out and trampled underfoot. You are the light of the world. A town built on a hill cannot be hidden. Neither do people light a lamp and put it under a bowl. Instead they put it on its stand, and it gives light to everyone in the house. In the same way, let your light shine before others, that they may see your good deeds and glorify your Father in heaven."
Light is moral purity according to God's standards, not like we see around us, and it is done by the fruit of the Spirit in gentleness and love. We are not trying to prove we are right, we are praying for God to grant repentance to sinners. 2 Timothy 2: 23-26, "Don't have anything to do with foolish and stupid arguments, because you know they produce quarrels. And the Lord's servant must not be quarrelsome but must be kind to everyone, able to teach, not resentful. Opponents must be gently instructed, in the hope that God will grant them repentance leading them to a knowledge of the truth, and that they will come to their senses and escape from the trap of the devil, who has taken them captive to do his will. We need to pray that God's Spirit will be controlling us as we witness to the people around us."
So how can we witness to those around us? There are many ways to spread God's word.
Isaiah 55: 6-15, "Seek the Lord while He may be found; call on Him while He is near. Let the wicked forsake their ways and the unrighteous their thoughts. Let them turn to the Lord, and He will have mercy on them, and to our God, for He will freely pardon. 'For My thoughts are not your thoughts, neither are your ways My ways,' declares the Lord. 'As the heavens are higher than the earth, so are My ways higher than your ways and My thoughts than your thoughts. As the rain and the snow come down from heaven, and do not return to it without watering the earth and making it bud and flourish, so that it yields seed for the sower and bread for the eater, so is My word that goes out from My mouth: It will not return to Me empty, but will accomplish what I desire and achieve the purpose for which I sent it.'"
The first thing we need to do is believe God's promise in these verses. If God says His Word will accomplish what He wants, we must continue to believe repeatedly so we do not get discouraged. We have a problem and get discouraged when we do not see results. But God is always faithful, He cannot fail. And people have hard hearts -- it takes time to break through the walls of resistance. We can also pray Psalm 119:18 "Open my, their, eyes that, they, I may see wonderful things in Your law."
We know that the eyes of unsaved people are blind to God's Word, to the hidden meaning of Christ. So, we depend on the Spirit to open their eyes. That is also why we pray for God to grant them repentance; it's His power that does this. 1 Corinthians 1:18-19, "For the message of the cross is foolishness to those who are perishing, but to us who are being saved it is the power of God. For it is written: 'I will destroy the wisdom of the wise; the intelligence of the intelligent I will frustrate."
So, what are some practical ways to share God's Word?
1). Send a copy of Wisconsin Christian News to the pastors in your local area.
2). If you listen to VCY America buy some CDs of a good message that you have heard, and prayed about, and send them to your local pastors.
3). Most local newspapers allow you to put 200 words in your local newspaper as a "Letter to the Editor." This isn't much, but if you allow the Spirit to help you, you can do it.
4). Walk around your neighborhood and pray. Get together with some people from your church and have prayer walks. Just don't pray, but ask God to speak to you for the needs in your neighborhood. Maybe your prayers will be an answer to those needs.
5). If you are good at writing short messages, you can buy clear 'door hanger' bags to put a message in and distribute them to people in your neighborhood. Be sure not to put them in mail boxes, which is illegal.
6). Ask your neighbors to attend special events at your church. Sometimes all it takes is for someone to invite them.
7). Look for opportunities to share why you believe in Christ. You do not have to be "good" at this, just share in appropriate ways that you know you will live forever because Christ died and rose again for you. You are proclaiming the basic truth of the gospel and God's truth is powerful.
8). Remember to encourage yourself with God's promises. We all have the tendency to get discouraged because we don't see results. God's Word needs to get into a person's inner being and that takes time.
Luke 8:11-15, "This is the meaning of the parable: The seed is the word of God. Those along the path are the ones who hear, and then the devil comes and takes away the word from their hearts, so that they may not believe and be saved. Those on the rocky ground are the ones who receive the word with joy when they hear it, but they have no root. They believe for a while, but in the time of testing they fall away. The seed that fell among thorns stands for those who hear, but as they go on their way they are choked by life's worries, riches and pleasures, and they do not mature. But the seed on good soil stands for those with a noble and good heart, who hear the word, retain it, and by persevering produce a crop."
Also remember John 3:16, "For God so loved the world that He gave His one and only Son, that whoever believes in Him shall not perish but have eternal life."
Does God's love ever change when we think about what Jesus said in John 3? We change and doubt and think that there is no way some people we see can be saved. But Jesus' words in John 3 never change. The Father always loves enough to give His Son Jesus, 'til the day Jesus returns. That is why we need to return again and again to the promises of God and remind ourselves that Jesus is the same yesterday, today, and tomorrow.