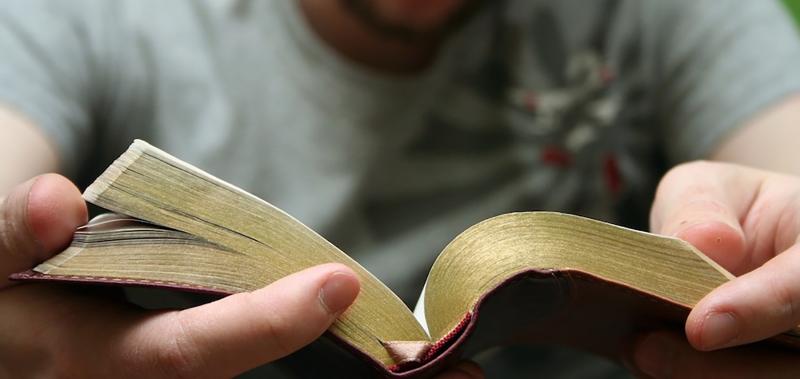 Complimentary Story
Every year for Christmas I make my husband a funny t-shirt. A favorite of his is the one that says 'Trophy Husband' on it. Troy is a hard worker and wonderful provider for our family, enabling me to stay at home with the kids, so it made us both chuckle quite a bit. But he truly is a treasure in many ways. At the top of my gratitude list would be his spiritual leadership of our family, but he also is quite handsome. This is not all a result of good genes. He goes to the gym on a regular basis to maintain his 'trophy husband' physique.
Troy has been frequenting this gym faithfully for almost 5 years now -- same day, same time, same routine. Faithfulness and discipline are two more of his strong character traits. There are several other men who go there on the same days and times. As Troy has faithfully, quietly read his Bible in the mornings while he rides his exercise bike, he has made an impact on them. Two of them come up to him now and ask for the "verse of the day." Usually this extends into a longer spiritual conversation. All this takes place while the men are lifting weights and riding bikes -- physical exercise and spiritual exercise living side by side -- a symbiotic relationship where both are beneficial to the other in this example.
1 Timothy 4:8 (English Standard Version)
"While bodily training is of some value, godliness is of value in every way, as it holds promise for the present life and also for the life to come."
Other men have overheard my husband and his "daily verse" friends talking, and have started to approach my husband in the locker room. Sometimes they have questions about what was being talked about, sometimes they have been encouraged and want to let my husband know.
The spiritual practices that my husband has so faithfully practiced for years, daily prayer and Bible study, don't just benefit him -- God is using them to benefit others. Physical exercise has been good for Troy, and is even important for him to do; but the spiritual "flexing" he does every day has been much more beneficial to his life. And it is not only his life that receives benefit from it; but the lives of many others. Our family is blessed by his leadership and faithfulness, and the men at the gym are being blessed as well. It is what truly makes him a "Trophy Husband." Through his faithfulness, not only is God working in his life, but in the lives of other men too.
God is willing to use whatever environment in our lives that we are willing to consecrate to Him. The gym would typically be a place that someone frequented with a total focus on self and on the physical body. But this environment, as you can see from my husband's testimony, can easily be consecrated to the Lord. Day in and day out, Troy gives witness to the Word of God and His working in our life as he faithfully reads and shares from his Bible. He is able to benefit his physical body while prioritizing the Spiritual opportunity that God has given him. The gym is his ministry, a time and place set aside and consecrated to the Lord. Many would not even think to use this environment as a platform for godliness, but God is not limited to churches and soup kitchens to do His Kingdom work.
From a prison cell, the most unlikely of ministry environments, the Apostle Paul wrote these words…2 Timothy 2:8-9 (English Standard Version)
"Remember Jesus Christ, risen from the dead, the offspring of David, as preached in my gospel, for which I am suffering, bound with chains as a criminal. But the Word of God is not bound!"
Paul understood, like my husband, that there is no environment that cannot be consecrated to the Lord's work. His prison became his pulpit as he preached God's word from within its walls.
To the Philippians he also said,
"I want you to know, brothers, that what has happened to me has really served to advance the gospel, so that it has become known throughout the whole imperial guard and to all the rest that my imprisonment is for Christ. And most of the brothers, having become confident in the Lord by my imprisonment, are much more bold to speak the word without fear."
(ESV Philippians 1: 12-14).
Paul understood that what others considered his misery, God had ordained as his ministry. What others saw as a prison, he embraced as a pulpit.
What environment are you in today that can be consecrated to the Lord? Are you willing to use your home, your job -- even your gym -- to proclaim the Word and the working of God?
Mark 16:15 (NKJV)
"And He said to them, 'Go into all the world and preach the gospel to every creature.'"
Psalms 96:3 (NKJV)
"Declare His glory among the nations, His wonders among all peoples."