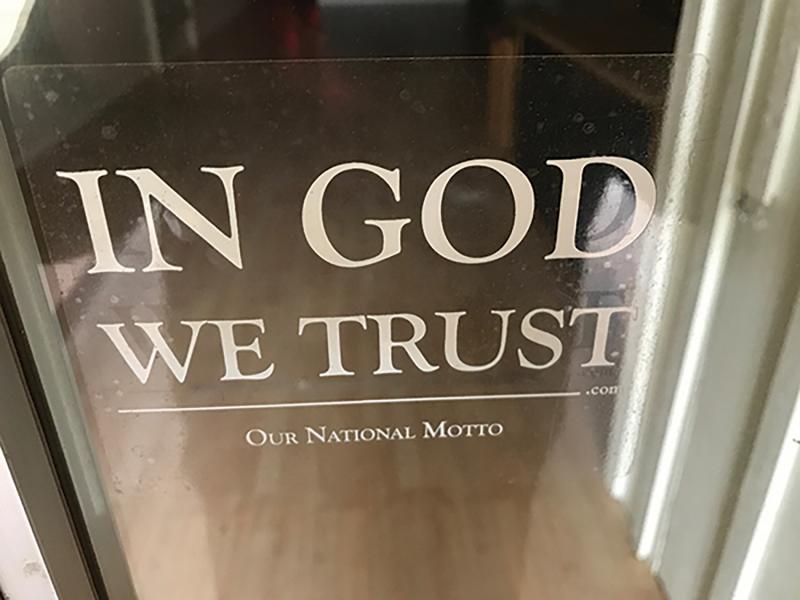 Complimentary Story
Today I would like to begin with one of my favorite areas of Scripture, and then share an amazing story. This Scripture has, in fact, become my "life verse," if there is such a thing.
Proverbs 3: 5 & 6,
"Trust in the Lord with all your heart and lean not on your own understanding. In all your ways, acknowledge Him and He shall direct your paths."
That really is some of the best advice ever written, and it has served me well to remember it, and strive to follow this wisdom, all my life.
Of course there are those times when trusting is difficult. When you THINK you've heard from the Lord, but circumstances in this natural world make the task before you seem impossible.... at least,
"in our "own understanding."
But God DOES, indeed direct our paths when we TRUST in Him with all our hearts.
Many of you have heard
the beginning
of my story before -- of how, in the 1990s, God called me out of a career in business to begin full time ministry work, starting a Christian newspaper from scratch. But really, HE did it; HE created this ministry, out of nothing. You've heard me tell before of the many challenges and obstacles we faced back in the year 2000, when I finally relented, stepped out in faith, gave up the security of a profitable business, and obediently followed God's call.
To say it was not easy would be a gross understatement. Because, "in my own understanding," with all the opposition I faced, I feared I may have made the biggest mistake of my life. But now, in our 18th year of publication, though we still struggle nearly every day to keep the ministry operating, I can look back and see all the many times God brought us through the deep, dark, "hopeless" valleys of despair, how He has blessed the work of my hands, and how that work has impacted literally thousands of people -- not just here in Wisconsin, (as was my original vision) -- but LITERALLY around the world. I stand amazed.
Yes, we are now in our 18th year of publication.
Wisconsin Christian News
is distributed in nearly every area throughout our state, but we also have subscribers who receive the paper by mail in almost ALL 50 states, and even Puerto Rico. And through the technology of the internet, we receive amazing testimonies from those who view our website all over the world. Not to mention my twice-weekly radio commentaries, which are broadcast nationwide. Never in my wildest dreams would I have thought such things would come from that one, first step of faith all those years ago.
Our mission is to provide Godly, Biblical --
Information, Education and Inspiration
-- not within the four walls of a church building, but OUTSIDE -- out there in the public square.... and as a result, we have been able to bless God's faithful, remnant believers, but ALSO reach those who have never heard the truth, who may never have set foot in a church, and those who have no Christian education or background at all. Because our newspaper is freely distributed on news racks IN PUBLIC PLACES, outside of churches, we are able to introduce a Christian worldview, and minister and witness to literally
thousands
of people who otherwise would never be exposed to these truths. The testimonies we have received from our newspaper outreach are truly incredible...and too many to
even begin
telling you about here.
Many of you are also aware that each spring, we host our annual Ministry Expo and Conference. This is an opportunity for people to meet and learn about MANY different Christian ministries that have exhibit booths there. We also host a conference in conjunction with the Expo, with speakers addressing the most important issues of our day from a solid, CHRISTIAN perspective. Note once again -- this all takes place OUTSIDE the four walls of a church,
in a PUBLIC shopping mall
! This year's theme was
"Reviving the Remnant by Revealing the Truth,"
and speakers addressed the issues of Islam, The Homosexual Agenda, Courageous Christianity, the Foundation of the Family, Abolishing Abortion, and the Revelation of Jesus Christ.
My greatest desire is to educate and inform as many as possible about these most important issues,
and motivate them to action
. At this year's event, our conference room was packed all day long. We had people come to hear our speakers from all throughout Wisconsin, as well as 9 other states, and even a group from Ontario, Canada! It was an incredible day. Our conference room could only hold 250 people, and for most of our speakers, it was "standing room only." But we video taped each speaker, and posted those presentations on our website. As of last count, we had more than 32,000 people watch the videos from this year's conference. ONCE AGAIN: I stand amazed at what God has done!
But now, as my story continues, let me take you back to the fall of
last
year. I was in the midst of planning for this year's Expo and Conference: choosing a theme for the event, selecting the best possible speakers, making accommodations for staging, sound systems, scheduling, seating arrangments, exhibit booths, etc.
But as I was working on all this, the Lord ALSO gave me the vision of starting a Ministry Center here in our town. It would be a place where we could do teaching similar to that which I was planning to provide at our upcoming Conference --
but on an ONGOING basis
. I would move my office and radio recording studio there, but ALSO this Ministry Center would be large enough to accommodate large meetings. A place where we could hold Bible studies and prayer times, do TRUE discipleship training, counseling, mentoring, and educate Christians on the things they are hungering and thirsting to learn about, but which their pastors will rarely, if ever, speak of. AND a place from which we could minister to the lost and seeking out there on the Main Street of our own town. Discipling and teaching God's people how to actually DO the Great Commission, and then putting our faith into action by actually GOING to the streets and mustering the courage to BE the salt and light we talk so much about.
At the time, there were no less than 51 commercial buildings for sale in our town. But one in particular was perfect. Situated right in the center of downtown, with plenty of space, and set up perfectly for our needs. This building had recently been renovated, but then went into foreclosure and had been vacant, owned by the bank and for sale for three years. It was also priced well below it's appraised value. I toured the building with the realtor and found it ideal. It needed a little tender, loving care, some fresh paint and lots of cleaning, but overall, it was really perfect. There was just one problem: I had no money for a down payment to purchase the building, so I first tried to rent it. The bank said "no." That seemed to be the end of things, yet the Lord continued to put the idea of this "Ministry Center" on my heart.
So shortly before Thanksgiving, I decided to do something bold. First, I took a decal with the words
"In God We Trust,"
and placed it on the front door of this building, deciding that whatever happened, it was in God's hands. If this were ever to be, HE would have to do it. Then, my wife and I went to the realtor's office and put in an offer to purchase the building, at substantially less than they were asking, which was SUBSTANTIALLY LESS than the value of the building. But my offer included the stipulation that they sell the building to us at this much lower price, and with no down payment.
You can guess what happened next. Yep. The bank said "no." So "that was that," as far as I knew. What I did not realize at the time was that while the BANK said "no," GOD was still saying "YES!"
Here's what happened: Five months went by. I continued my regular work with the newspaper, and also continued preparing for our annual Expo and Conference. Gradually, I let the dream of the Ministry Outreach Center go. I could not see any possible way for it to happen. Maybe someday; or maybe someone else would be able to accomplish it, but certainly not me. I did not have the funds for the down payment and the bank was completely inflexible. By the time of our Ministry Expo I hadn't thought about the Ministry Center building in a very long time.
But after the Expo was over, my wife and I cleaned up, took down the exhibit booths, packed up all our stuff, took down all our signage, and put the shopping mall back in it's normal state. By 11 pm, there was no evidence that such a huge event had just taken place there. My wife and I drove separately, because we had so much to haul back home. As I drove along at 11 at night, alone in the dark, the Lord spoke to my heart once again. (God and I have conversations frequently, but this one didn't last very long).
"Rob, you need to open that Ministry Center!"
He said. My response was:
"But Lord, I tried and the bank said 'no.' I can't afford the down payment on this building and they won't rent it to me."
God's response was just seven words:
"Are you going to doubt Me AGAIN?!"
That was it. Saturday night around 11 pm. I really didn't think much more of it. You see,
"in my own understanding,"
such a thing really was impossible.
Then came Monday morning. I was still unpacking from Saturday's Conference when a man walked into my office -- someone who I had shared the vision of the Ministry Center with five months earlier. I hadn't seen him since. But here he was, and he said to me: "
God told me you need to open that Ministry Center and here's a check toward the down payment on the building!
" I gratefully accepted his gift, but told him I would put it in an envelope and hold on to it and see what God would do. So that's what I did, and on the outside of the envelope, I wrote simply,
"In God We Trust."
A half hour later, my phone rang. It was the realtor. The bank had just called him, asking his advice on what they should do with this building, since it had not sold yet, even though they had, by now, lowered the price even further. The realtor told the banker:
"I think you should take Rob Pue's offer."
And now, the realtor was calling me to see if I might still be interested. That was Monday.
On Tuesday morning, another man came to me, out of the blue and said, "
Rob, you need to buy that building and open that Ministry Center!
" And he, too, (without my asking), handed me a check toward the needed down payment. I now had nearly a third of what the bank required to move forward, tucked away in an envelope with the words
"In God We Trust"
written on the outside.
I went home on Tuesday night and finally told my wife all that had happened since my quiet drive home with God on Saturday night. My wife is very wise and was not at all surprised.
"Of course!"
she said.
"God KNEW you were much too busy to focus on this back in November. You were working on the Special Edition of the paper for Thanksgiving and Christmas. Then you had the Expo to deal with. It makes perfect sense... the MINUTE the Expo was over, God said "GO!"
Yes, indeed. God's timing was perfect. Why didn't I see that? Why did I ever doubt?
Long story short, other gracious friends also donated toward the needed down payment, and in short order, we had raised the required funds. On May 24th, my wife and I signed the papers and officially "closed" on the building. It is now ours, by God's grace, for His glory! I should note that the building also has several apartments on the upper level, which we will rent out, and which will cover nearly all the expenses of the operation of the Ministry Center.... that building on Main Street, which still bears the decal I placed on the door many months ago:
"In God We Trust."
As I write this message, we have just completed a long work day at the new building. Ten gracious and skilled volunteers joined my wife and me as we painted, cleaned, and made repairs in preparation for opening, which we hope will be soon. But there is still a LOT of work to be done, and of course, it will be ready when GOD SAYS it will be ready! We can only do so much at a time, because funds are very limited, and so is my time. I work an average of 12 - 14 hours a day, six days a week, so we need lots of help to prepare, and lots of volunteers to help
operate
God's new Ministry Center once we open.
What lies ahead, only HE knows. I ask today for your prayers that the Lord grant us wisdom as we move forward, always hearkening to the guidance of the Holy Spirit and seeking to do only that which is God's perfect will.
I have no doubt that this will NOT be easy
. It will be tough, because that is what the narrow road of the Christian life IS. The road ahead will be rocky and daunting; there will be lots of opposition and many obstacles to overcome. But we have not been given a spirit of fear, but of power and love and a sound mind, and all those things, I pray, we will be able to impart to the disciples we minister to there.
We are, ONCE AGAIN, stepping out in faith on a journey we know nothing about. But GOD knows. And IN GOD WE TRUST! And once again, I stand amazed.