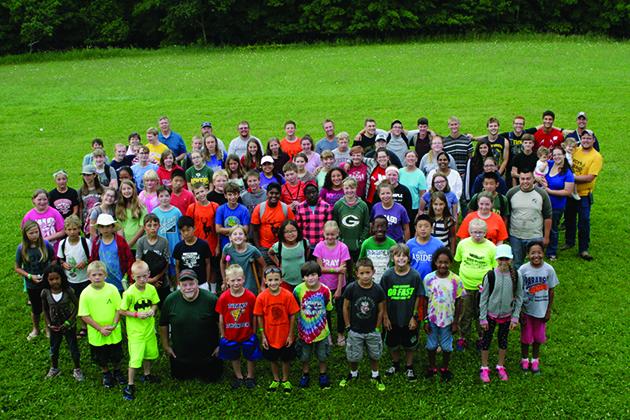 Complimentary Story
The beginning of I Kings 17 recounts the faithful work of an omnipotent God sustaining the life of His prophet, Elijah. The prophet had endured plenty of difficult and trying times because of his faithfulness to God, and this opportunity before him was no different. In the midst of a drought, God sent Elijah to the brook Cherith for refuge. This was no riverside 5-star hotel with room service and a balcony to watch the sunset, but God's provision is demonstrated by providing nourishment in a barren land. Elijah's food was delivered regularly by ravens who brought meat and bread, and the brook provided him with water.
Cherith — a place where God meets His people's needs. Similar to those physical needs in Elijah's time at Cherith, we've been able to see many spiritual needs met this summer on Cherith Lane in Hillsboro, Wisconsin. On the scenic property of Trail Ridge Camp, campers arrive on Monday morning ready for a week of excitement and new experiences. In the short time they are here, campers are given several opportunities to respond to the teaching in God's Word.
Camp includes 9 chapel sessions, 4 days of personal devotions, a Scripture memory competition and 5 nights of cabin devotions led by their counselors. This summer, we saw many children and teens respond positively to invitations to receive Christ as their personal Savior. At our weekly Friday night Testimony Fire, our staff was blessed to hear that 22 young people publically professed salvation! What a thrill it was to see young people choose to turn from their sin to living in submission to our Almighty God!
We may never know what effect a week at Trail Ridge may have on the life of some people, but we do know that we've done our job. Paul mentions in I Corinthians 3 that it is our job to sow the seeds of the Gospel. It is even our job to water those seeds. We, at Trail Ridge, will continue planting and watering knowing that (in God's will and in God's timing) in due season that it will be God who will give the increase. If God can use a raven to provide sustenance for His prophet Elijah, He can certainly use this camp and its staff to provide a haven for those looking for their spiritual needs to be met as well.
We'd like to thank all of our summer staff, volunteers, those who sent campers and our prayer warriors for making this summer at Trail Ridge a success! Many more opportunities will be available in the coming months. Keep up with Trail Ridge at
www.TrailRidge.org
or on our Facebook page: Trail Ridge Camp and Conference Center.
COMING UP:
2017 Father/Son Retreat!
Trail Ridge Camp in Hillsboro will be hosting its 5th Annual Father/Son retreat Friday, October 6 at 5pm and continuing through the worship service on Sunday, October 8. This activity-filled weekend presents a wonderful opportunity for dads and sons to enjoy quality time together in a camp setting.
The theme of this year's retreat is "Standing Firm" featuring Mike Riddle from Creation Training Initiative as the speaker.
Christian beliefs are constantly coming under attack. This weekend will equip both young and old alike to stand firm in such a time as this.
Activities planned for the retreat include rifle range, trap shooting, archery, fishing, boating, softball and go-carts.
Single men are also encouraged to come and will greatly benefit from both the fellowship and the teaching. Or if you desire, you can "adopt a son" and bring him along for this special weekend.
The weekend retreat includes two nights of lodging, five delicious meals, and activities. The cost for the weekend is $60 for those ages 18 and above and $40 for ages 17 and under. Space is limited and registration is required by Tuesday September 26.
Trail Ridge Camp is located at S2695 Cherith Way in Hillsboro. Register online at
www.trailridge.org
. For more information call
1-800-729-9829.