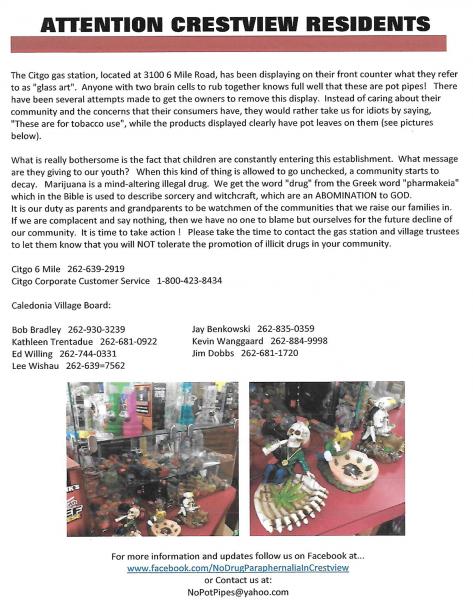 Editor,
Wisconsin Christian News:
We recently distributed a flyer (see at right) in our neighborhood to bring attention to the pot pipes being sold right on the front counter, just above the candy, at the local Citgo gas station at 3100 6 Mile Road here in the Crestview subdivision of Caledonia in Racine.
You would think that most people would be on board with keeping drugs out of their neighborhood. Not so. The response of the majority on a neighborhood blog was nothing less than grievious. Most people seem to agree with the "just go along to get along" attitude and the "politicians know better" mindset. I guess it's no surprise that in a nation that kills it's own children through abortion (and quite possibly post-birth abortion someday) that anything related to drugs is no longer frowned upon.
The natural parental protective instincts for our children seem to have diminished from our hearts. One mother on the blog said, "My kids have never asked about them. Of course they can barely see over the counter though. I really like that place, however — they are unfailingly kind to my kids and my family." One woman who was in favor of the pot pipes being sold there even admitted that they sell "over priced and expired merchandise" and in the same b ...