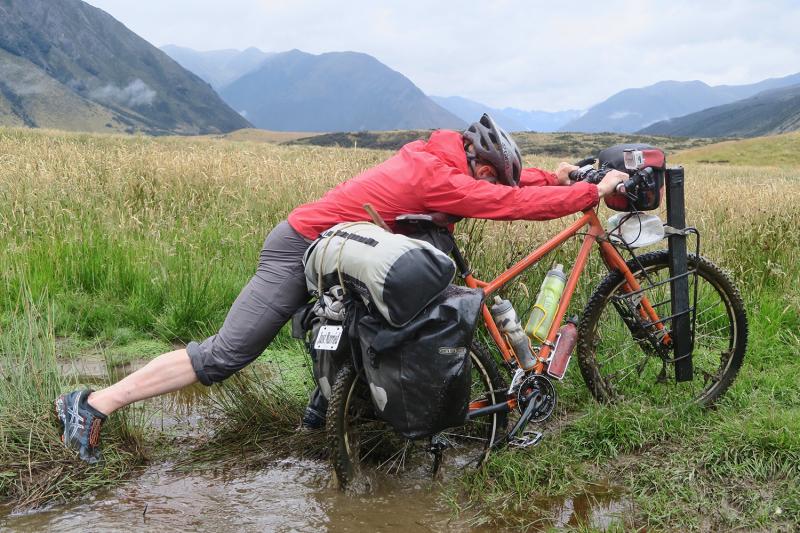 Complimentary Story
I went mountain biking the other day…well, that might be a bit of an exaggeration…I went to a mountain bike trail the other day. I did ride my bike some of the time, on the flat and wide areas; but I must confess that I am more than a little cowardly when it comes to the rugged terrain in the heart of the mountain bike park. Honestly, it was terrifying to me and so I came to a screeching halt at the base of a steep, lumpy incline. There I ended up pushing my bike, up and down the obstacles on the course most of the way.
I was recounting my adventure of sorts to a new friend of mine who is an avid mountain biker. She laughed heartily at the picture I painted (probably because she wasn't on the trail that day to be annoyed by me!), and she told me that biking over the obstacles is a lot easier when you have momentum.
Our Christian walk is that way too. There may be times when we seem to trudge along with lead feet, making only inch-long steps of progress that require large outputs of faith and effort. These times would occur less and be more easily overcome if we had momentum in our walk with the Lord.
What is momentum? Merriam Webster's online learner's dictionary defines it as: "the strength or force that allows something to continue or to grow stronger or faster as time passes."
What gives us momentum in our Christian walk? Are there things that we can count on to help us continue in this sometimes crazy life, growing stronger as time passes? I have good news for you today friends, there is. It is called God's grace. It is the energy available to us up front to meet every need, obstacle and trial we might come up against every day in this life. Grace is the primary fuel that gives us momentum in our walk with the Lord. It manifests itself in various ways, but is endlessly available and all-powerful to meet our diverse needs. 2 Corinthians 9:8 (New King James Version)
"And God is able to make all grace abound toward you, that you, always having all sufficiency in all things, may have an abundance for every good work."
So, how can we get our hands on this abundant abounding grace so that when we are on the oft treacherous path of life and we see an obstacle looming in the distance, we will be prepared with the momentum to easily overcome it? There are varied ways grace is given to us, but we will look at three in particular: the Word of God, the people of God, and prayer.
Psalm 119:105 (New American Standard Bible)
"Your word is a lamp to my feet and a light to my path."
God's Word sheds light in our lives. Why do we need light? So we can see the path more clearly! When our course needs correcting, it disciplines us. When we are tired from the long trek, it encourages us. When we are at a fork in the road, it directs us. God's Word is alive and gives us living, abundant grace for every need.
In addition to the Word of God, God often imparts His grace to us through the People of God - our Brothers and Sisters in Christ. Hebrews 10:23-25 (English Standard Version)
"Let us hold fast the confession of our hope without wavering, for He who promised is faithful. And let us consider how to stir up one another to love and good works, not neglecting to meet together, as is the habit of some, but encouraging one another, and all the more as you see the Day drawing near."
Do you have Christian friends who encourage you and cheer you on as you navigate your walk with the Lord? This is a vital part of the Christian life. God plans for you to benefit from being in a local church by receiving grace and encouragement from your Christian family, and He also intends for you to be used in their lives as well. We must not neglect meeting together, but instead look for ways to urge one another on to Godly living.
While the Body of Christ is intended to be an amazing support and encouragement to us, it will never replace our relationship with God Himself. The God of the Universe has given us direct access to Himself through the blood of Christ. When Christ breathed His last breath and shed His last drop of blood on the cross; the temple curtain was torn in two. This represented the reality of what had just happened. No longer was a priest needed to approach the throne of God. Direct access to the throne of God is now granted to every believer. Hebrews 4:14, 16 (New American Standard Bible)
"Since then we have a great High Priest who has passed through the heavens, Jesus, the Son of God, let us hold fast our confession. Let us then with confidence draw near to the throne of grace, that we may receive mercy and find grace to help in time of need."
We can pray to our God and know that He hears us. And when we approach His throne in prayer, we can be confident that He will give us grace for our needs.
So do not be surprised, Brothers and Sisters, when on the path of life you come across an obstacle. Christ told us that this would be the case. John 16:33 (English Standard Version)
"In the world you will have tribulation. But take heart; I have overcome the world."
But rather be prepared — through the Word of God, the People of God, and prayer; you can have the grace-infused momentum necessary to scale those mountainous obstacles.
Psalm 18:33 (New Living Translation)
"He makes me as surefooted as a deer, enabling me to stand on mountain heights."
Ephesians 1:17-20 (New International Version) "I keep asking that the God of our Lord Jesus Christ, the glorious Father, may give you the Spirit of wisdom and revelation, so that you may know Him better. I pray that the eyes of your heart may be enlightened in order that you may know the hope to which He has called you, the riches of His glorious inheritance in His holy people, His incomparable great power for us who believe. That power is the same as the mighty strength He exerted when He raised Christ from the dead and seated him at his right hand in the heavenly realms."
This grace is available to us today! We can have the strength to continue and to grow stronger in our Christian walk. Grace is our momentum and God desires that we receive it in varied forms and in abundance.