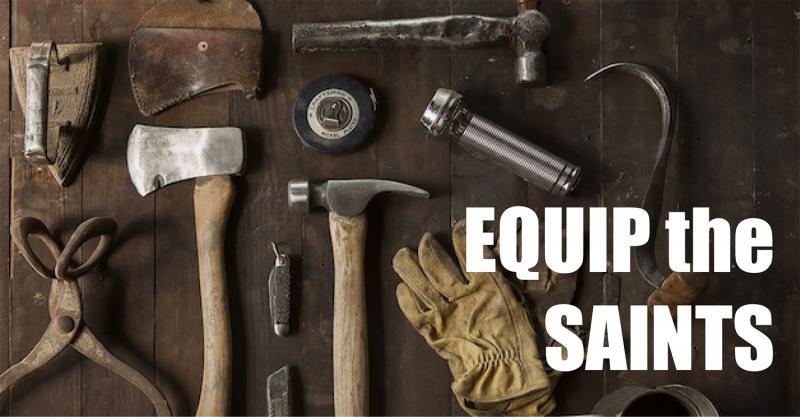 Complimentary Story
"To the praise of the glory of His grace (all of His provisions more than sufficient to meet our need), wherein he hath made us accepted in (Christ) the beloved" (Ephesians 1: 6). Continuing in Ephesians 4:11-24; "And He gave some apostles; and some, prophets; and some evangelists; and some, pastors and teachers; for the perfecting of the saints, for the work of the ministry, for the edifying of the body of Christ: 'til we all come in the unity of the faith, and the knowledge of the Son of God, unto a perfect man, unto the measure of the stature of the fullness of Christ."
This is the first priority of the Church! "That we henceforth be no more children (still desiring only milk, and not the meat, being) tossed to and fro, and carried about with every wind of doctrine, by the slight of men, and cunning craftiness, whereby they lie in wait to deceive; but speaking the truth in (agapa) love, may grow up into Him in all things, which is the head, even Christ: From whom the whole body fitly joined together and compacted by that which every joint supplieth according to the effectual working in the measure of every part, making the increase of the body into the edifying of itself in love." Agapa love, the same love by which we are loved of the Father, so as not to cause others to stumble.
"This I say therefore, and testify in the Lord, that ye henceforth walk not as others walk, in the vanity of their mind (their imagination), having their understanding darkened (not able to discern good from evil), being alienated from the life of God through the ignorance that is in them, because of the blindness of their heart (like the blind fools of Matthew 23!): Who being past feeling have given themselves over unto lasciviousness (a disposition of the soul not having or bearing a struggle with remorse, no restraints. Indecent, lewd, merciless, cruel and inhumane, without just cause, malicious, unrestrained, and given to extravagance) to work all uncleanness with greediness. But ye have not so learned Christ."
Why then is the distinction drawn between Christians and the world so blurred that there seems to by virtually little or no difference between them? "If so be that ye have heard him, and have been taught by him, as the (only) truth is in Jesus: That ye put off concerning the former conversation (literally, a turning back the former manner of life of word and deed, to put off the old man,) which is corrupt according to the deceitful lusts: And be renewed in the spirit of your mend (Gods word in us). And that ye put on the new man (transformed from the inside out), which after God is created in righteousness (right thinking) and true holiness."
What is true holiness? It is doing good for the right reasons from a heart full of gratitude, trusting His every word to always be for our good "Trusting in the Lord with all thine heart; and lean(ing) not unto thine own understanding. In all thy ways acknowledge Him, and He shall direct thy path." (Proverbs 3: 5, 6).
True holiness is a choice. It is all or none! Not a compromise. Jesus describes true holiness in Matthew 6: 24-34; "No man can serve two masters: for either he will hate the one (good) and love the other (evil) ; or else he will hold to the one (He that is all truth), and despise the other (the one who fills our imagination with perverted truth). Ye cannot serve God and mammon (that which money can buy, the root of all evil). Therefore… take no thought (to worry) for your life… For after all these things do the Gentiles (the world) seek. For your heavenly Father knoweth that ye have need of all these things. But seek ye first the kingdom of God (which is always at hand), and his righteousness (right thinking); and all these things shall be added unto you. Take therefore no thought for the things of itself. Sufficient unto the day is the evil thereof."
What do we find in the Law and the prophets about true holiness? The first command to be holy is found in Leviticus 11:44, 45. Because," I am the Lord your God: ye shall therefore sanctify yourselves." If one claims the one and only true God to be their God, he expects them to be set apart from all other gods, with our thinking being reconciled to His thinking, not worshiping nor serving any other gods (Deuteronomy 5:9). "And ye shall be holy; for I am holy: neither shall ye defile yourselves with and manner of creeping things that creepeth upon the earth. For I am the Lord that bringeth you up out of the land of Egypt (out of bondage), to be your God; ye shall therefore by holy, for I am holy." Again in Leviticus 20:7, 8, 24-26; "Sanctify yourselves therefore, and be ye holy: for I am the Lord your God… I am the Lord which sanctify you."
So far, God has commanded us to be separate from the world, and then He will sanctify our heart. Only upon our surrender can He sanctify our heart, being committed to One God, our Father in heaven. "I am the Lord your God, which have separated you from other people…And shall by holy unto Me: for I the Lord am holy, and have severed (separated) you from other people, that ye should be Mine." The original forever covenant with mankind: I will be your God, and ye shall be My people, My children, My sons and daughters. A called out people — the Ekklesia in the wilderness (Acts 7:38), now including the Gentiles, the church (the same Ekklesia) of the now new and also forever covenant added to the old.
King David has much to say concerning true holiness in Psalms 86:1-5, 15. "Bow down thine ear, O Lord, hear me: for I am poor and needy." All that he needs or wants physically or spiritually he totally depends upon God's abundance of grace and mercy. "Preserve my soul (I can do nothing to accomplish that, but to trust you), for I am holy (given to a perfect heart, by totally trusting and depending upon his Lord to guide him in the way everlasting): O thou my God, save thy servant that trusteth in thee. Be merciful unto me, O Lord: for I cry unto you daily. Rejoice the soul of thy servant: for unto thee, O Lord do I lift up my soul."
King David had the same confidence of his salvation as we also can have today, those who turn from their wicked ways to trust Him completely! Because grace, mercy, and forgiveness was promised to them in the Old and forever covenant based upon His sure word to not only cover their sins by the blood of animals; but eventually cleanse them and us of our sins by the blood of the perfect Lamb of God, Jesus the Christ, in the forever New Covenant. Thus adding to the old, to fulfill that which the old could not do, to cleanse us from all unrighteousness! "But thou, O Lord, art full of compassion, and gracious, longsuffering, and plenteous in mercy and truth." God only knows to what length we have gone to make excuses for not being obedient to His word, to be set apart, holy and acceptable to our Lord, a light to those in darkness.
The Apostle Paul also has much to say about true holiness. In Romans chapters 10 through 16, he is making the case "there is no difference between the Jews and the Greek: for the same Lord over all is rich unto all that call upon him… (they) shall be saved." The call to be holy is still the same for us! Romans 11:16, 17; "for if the firstfruits be holy, the lump (the whole body) is also holy: and the root be holy, so are the branches (His true children whether Jews or Greek). And if the branches (the Jews) be broken off, and thou being a wild olive tree (the Gentiles) wert grafted in among them, and with them partakers of the root (Christ) and fatness of the olive tree."
Jesus also makes this same comparison with the vine in John 15:1-14. Romans 16:19, 20; "For your obedience is come unto all man throughout the whole world," (Romans 1:8). "I am glad therefore on your behalf: but I would have you wise unto that which is good, and simple concerning evil (a discerning of good from that which is evil.) And the God of peace shall bruise Satan under your feet shortly." Setting us free from bondage to the knowledge of evil.
True faith always produces obedience! Since the beginning our problem with faith has been our refusal to either repent or forgive. The first covenant was a covenant of repentance and forgiveness. The baptism of John was "the baptism of repentance for the remission of sins… Bring forth therefore fruits worthy of repentance" Luke 3: 3, 8. But instead we have separated ourselves from the Old Covenant, leaving our responsibility to repent and forgive others as Christ has forgiven us, of little consequence.
Apostle Peter in his letters to the Jewish and Gentile Christians scattered abroad also stated in I Peter 1:14, 15, 22, 23; "As obedient children, not fashioning yourselves according to the former lusts in your ignorance (hanging all your works, as good as they may seem upon the law of the flesh, I John :16): But as he which hath called you is holy, so be ye holy in all manner of conversation (discerning only by the very words of God as our only guide); Because it is written, Be ye holy; for I am holy… Seeing ye have purified your soul in obeying the truth through the Spirit unto unfeigned (unpretended, without hypocricy) love of the brethren, see that ye love one another with a pure heart fervently. Being born again, not of corruptible seed (the opinions and traditions of men), but of incorruptible, by the word of God (the perfect word, the pure and unadulterated word of God!), which liveth and abideth forever."
Peter calls all of us, Jews and Gentiles to the original calling of the ekklesia in the wilderness. I Peter 3:14, 15... "But if ye suffer for righteousness' sake (for the sake of our right thinking), happy are ye: and be not afraid of their terror, neither by troubled." God has comforted many throughout the Scriptures with the words, "Fear not" and "Let your hearts not be troubled." "For God hath not given us a spirit of fear: but of power, and of (agape) love, and of a sound mind."
"But sanctify the Lord God in your hearts" to avoid the worship and serving of any other gods but Him. "Ready always to give an answer to every man that asketh you a reason of the hope that is in you with meekness and fear."
Has the church been faithful and diligent to equip the saints to be ready always to give from the Scriptures to those who ask of our hope as to why we do what we do? Being able to respond with the full gospel that leads one to repentance and God's forgiveness. Or are we too occupied with pursuing the American dream? Never satisfied, but only a little bit more. Repeating past history, "Ye have plowed wickedness, ye have reaped iniquity: ye have eaten the fruit of lies. "Deceived: because thou hast rejected knowledge, I will also reject thee…I will also forget thy children." (Hosea 10:13). Repent, or we will all likewise perish!