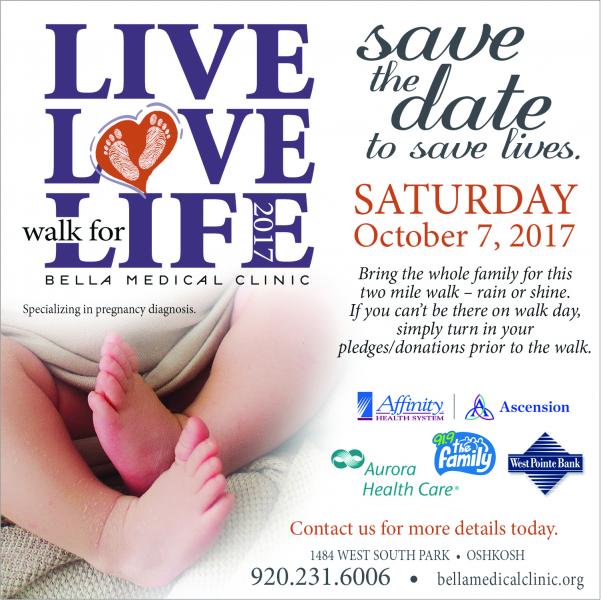 Complimentary Story
Walks, for whatever cause, always make a difference. Death is a daily occurrence for many because there is no help. Whether people die from ALS, Cancer, MS, Muscular Dystrophy, Leukemia, Sickle Cell and a host of other ailments, money raised for any disease makes for a better quality of life or saves a life. Someone is given a chance to live. That person is here today because of the impact of walks — the money raised helped find a cure or an intervention.
Stop and think about the current fundraisers being held for the victims of Hurricane Harvey. Not only are federal, state and local agencies helping victims, but Red Cross from across the country are lending a hand. One of our own Packers is doing a private fundraiser to help victims. Do people care? Absolutely. No one wants to see someone else in distress.
So, why Bella's Walk for Life? What does it do? First of all, the walk raises funds to help Bella continue operating. We can't be of service if our doors aren't open. As you may recall, Bella offers ultrasound to pregnant mothers. Ultrasound helps mothers bond with their unborn child. It allows them to hear the heartbeat and see her child in utero — to realize that she is carrying a new life within her. Bella also offers many other services such as parenting classes, child care supplies like car seats, diapers, wipes, and such.
This year Bella is in need of updating our parenting curriculum. The information we have is correct but it needs to be timelier. June Cleaver was a great image for the 1950s and 1960s, but not for our modern young women. Times have changed and so the curriculum needs to change with the times. It may seem like a small thing but when there are many young women who come to us with no knowledge of budgeting, child care, cooking and the basics that many of us take for granted, we need to have the most current tools to help these new mothers.
Also, these mothers may not have a mother in their lives at all or a mother who is not even in close proximity because the young woman may be from another town or state and have nowhere else to go for help but to Bella. We need your help.
Another need which has arisen is the need for updated medical services, such as STD testing and treatment. Winnebago County is one of the highest STD rate counties in the Fox Valley. The testing and treatment are crucial. In addition to helping women with basic medical testing, Bella also makes referrals to community agencies to ensure that a young woman during pregnancy gets all the medical care she needs to deliver a healthy baby, and once that baby is born, her mother needs continued medical care to ensure she is well enough to care for her baby.
So, the answer to the above question: "Bella's Walk for Life – Does It Make a Difference?" is an emphatic YES! Without your support, help would not be available.
Please support Bella's Walk for Life on Saturday, October 7th, at Bella Medical Clinic at 1484 W. South Park Avenue in Oshkosh.
We walk rain or shine, starting at 9:00 am. See you there!
If you can't join us, you can always donate online at:
www.bellamedicalclinic.org
Thank you always for your ongoing support. We couldn't do our jobs without it! God bless.