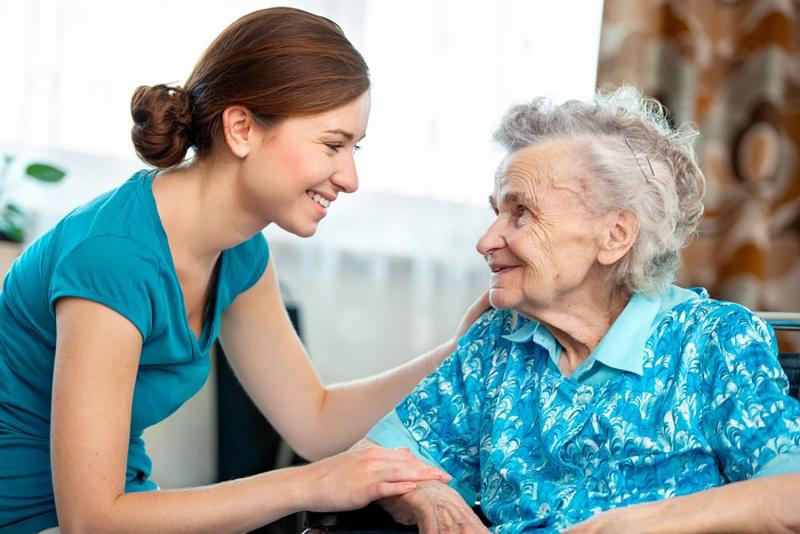 Complimentary Story
"A new commandment I give to you, that you love one another: just as I have loved you, you also are to love one another. By this all people will know that you are my disciples, if you have love for one another."
(John 13:34-35).
Providing eldercare to a parent, grandparent or relative is one of the noblest occupations in life. Along with this great privilege, however, often come monetary responsibilities. Consider these practical ideas for maintaining financial stability:
Estimate a budget. How much of the elder's finances will be devoted to care costs compared with your finances? If you're considering quitting a job to focus on eldercare, think about the resulting loss of income, the probable loss of your own health care coverage, and your prospects for reentering the workforce in the future.
How much will "aging in place" cost? Growing old at home has many advantages. Unfortunately, the cost of care provided in the home can greatly exceed nursing home services. Consider how long you can manage with home health aide services versus adult day care or nursing home care.
What do you know about your loved one's finances? Caring for a loved one may mean making financial decisions on their behalf and potentially involve a learning curve ahead. You'll need to know:
• Sources of your loved one's income
• Location of wills, deeds and trust documents
• Beneficiaries of their policies and accounts
• Financial advisors
• PIN numbers and Social Security numbers
Do you need a power of attorney? If your loved one has been diagnosed with a disease that will eventually impair judgment, a power of attorney will likely be needed. A power of attorney authorizes an "agent" or "attorney-in-fact" to handle financial transactions for another person.
You want to obtain a power of attorney before your loved one is unable to make financial decisions. Copies of the durable power of attorney should be sent to any financial institution at which your parents have accounts or policies. 1
Is it time for a conservatorship? A conservatorship gives a guardian the control to manage the assets and financial affairs of a "protected" person. If a loved one becomes incapacitated, a conservator can assume control of some or all of the protected party's income and assets if a probate court allows.2
If a trust is created, who will serve as trustee? As some care receivers acknowledge their physical and mental decline, they decide to transfer ownership of certain assets from themselves to a revocable or irrevocable trust. Upon death, the trustee distributes the settlor's assets according to the instructions written in the trust document. He needs to have sufficient financial literacy to understand tax law, the managing of investments and the long-range goals noted in the trust document.
Do you understand the potential for liability? As a caregiver, you have a physical, psychological and legal duty to the care receiver. If you neglect that duty, you could be held liable. Many states have laws demanding that caregiving meets certain standards.
These laws are basically similar: a caregiver must not abuse the care receiver in any conceivable way, and any incidents of such abuse must be reported. The elder must have adequate nutrition, clothing and bedding, and the environment must be clean and not pose health hazards.
If you have obtained a power of attorney for finances, then appropriate amounts of the elder's money must be spent on necessary health services and other services on behalf of his/her well-being.
Useful URLs. Some good websites can help you connect to great resources: try the U.S. Administration on Aging's Eldercare Locator (eldercare.gov), the National Council on Aging's online benefits checklist service (benefitscheckup.org) and the National Association of Area Agencies on Aging (n4a.org).3
"And let us not grow weary of doing good, for in due season we will reap, if we do not give up. So then, as we have opportunity, let us do good to everyone."
(Galatians 6:9-10).
Submitted by Patrick Wallschlaeger
, CEO, Midwest Professional Planners, Ltd., a Registered Investment Advisor. You can write to him at 2610 Stewart Ave. Suite 100 Wausau, WI 54401, or call him at 1-800-236-6775.
Investment Advisory Services offered through Midwest Professional Planners, Ltd. ("MPPL"), 2610 Stewart Ave., Ste. 100, Wausau, WI 54401, 1-800-236-6775, an SEC-registered investment advisor. Securities products involving commission or transaction based fees are offered through Comprehensive Asset Management and Servicing, Inc. ("CAMAS"), 2001 Hwy 46, Ste. 506, Parsippany, NJ 07054, 1-800-637-3211. Member FINRA/SIPC/MSRB. MPPL is independent of CAMAS.
Citations.
1 - www.law-business.com/powers-of-attorney [4/27/12]
2 - dhs.sd.gov/gdn/guardianshipfaqs.aspx [6/2/12]
3 – money.usnews.com/money/blogs/the-best-life/2011/07/18/10-tips-for-caring-for-aging-parents [7/18/11]