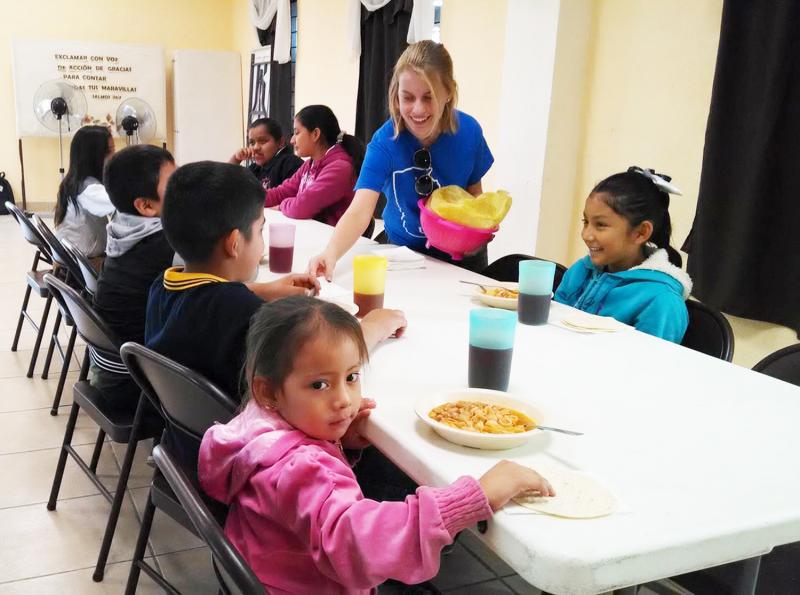 Complimentary Story
"Fire in the kitchen!" Those are not words you usually want to hear, but they were music to my ears today. As I drove my Mexican pastor friend, Gonzalo, home from the airport, he told me of a lady who recently started serving alongside a sweet group of women who run a feeding ministry in his little church in Monterrey, Mexico. When she first came to the church, her countenance was downcast, lacking the joy and life that Christ so desperately desires to give to each of us. But now, only a few months later, time spent in God's Word and in communion with God's people has sparked a fire in her. She has transitioned from being a silent partner in the Sisterhood of servants to being an encouraging participant. Now she is the fire in the kitchen!
When the Holy Spirit came and rested on men at the first Pentecost, He was a flame of fire.
Acts 2:1-4 (New International Version),
"When the day of Pentecost came, they were all together in one place. Suddenly a sound like the blowing of a violent wind came from heaven and filled the whole house where they were sitting. They saw what seemed to be tongues of fire that separated and came to rest on each of them. All of them were filled with the Holy Spirit and began to speak in other tongues as the Spirit enabled them."
There may be places in our lives where we do not want to see an actual fire, like our kitchens! But God's fire, the life of the Holy Spirit, should be something we desire to see evidenced in all areas of our lives. Where are you lacking the fire that the Holy Spirit seeks to give you? Do you need a fire in your marriage? Perhaps to ignite or reignite passion, or to burn away some of the dross of apathy? Do you need a fire in your quiet time with the Lord? Ask for fresh eyes to see His Word and fresh ears to hear His heart. Do you need a fire where you're employed? Desire opportunities to witness and see souls converted. Do you need fresh fire at your church? Pray fervently for the unmistakable movement and presence of the Holy Spirit. Do you need a fire in your mind? Let God burn out selfish or condemning thoughts, and fan into flame the Truth of the Word and the power of His promises.
We need the power and presence of the Holy Spirit in our lives. We need to want the Holy Spirit to work in our lives. We must desire what God wants to give us. It is natural for our flesh to cry out for the things of this world, and to look there as its source of satisfaction. It is just as natural, and necessary, for our spiritual self to cry out for the fresh fire of the Holy Spirit to satisfy and fill us.
Galatians 5: 16-19,25 (English Standard Version),
"But I say, walk by the Spirit, and you will not gratify the desires of the flesh. For the desires of the flesh are against the Spirit, and the desires of the Spirit are against the flesh, for these are opposed to each other, to keep you from doing the things you want to do. If we live by the Spirit, let us also keep in step with the Spirit."
We must not be content to live only in the flesh and for the flesh. Ask God today for fresh fire in your life.
Luke 11:13 (English Standard Version),
"If you then, who are evil, know how to give good gifts to your children, how much more will the heavenly Father give the Holy Spirit to those who ask Him!"
A few women in a small church in Mexico have fed hundreds of children in their community and surrounding areas every week for over 10 years. Now some of those who have received spiritual and literal sustenance from this vibrant ministry as children have grown up and gone on to participate in it and offer their time to serve the next generation. The life and power of the Holy Spirit is evident as you see these children receiving provision that goes beyond their physical needs and meets their greatest spiritual need. The fire of the Holy Spirit in a small church kitchen in Monterrey, Mexico is fanning out and igniting its flame for the glory of our great God.
I thank God for the testimony of this small band of Believers in Mexico. They have fire in their kitchen and fire in their hearts. May we each let this encourage us to seek the presence of God and the power of his Holy Spirit in our lives daily.
How can we kindle the fire of the Holy Spirit in our life? And how can we seek to hand off that passionate torch to the next generation?
2 Timothy 1:6a (New American Standard Bible),
"For this reason I remind you to kindle afresh the gift of God which is in you..."
Chris McMahan
Email: Happy1970@icloud.com