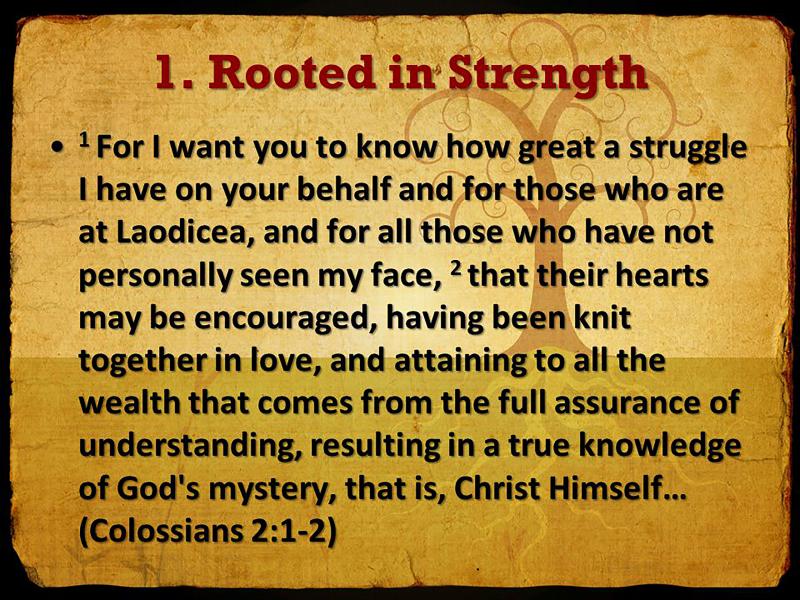 Complimentary Story
No one can say that ministering on behalf of Christ is easy. Sure, there is always the peace and joy derived from the One we serve, but we often face obstacles and opposition along with the care we have for other saints and the burden for the lost. In our last Colossians article, we talked about the unique message of grace that the risen Christ had entrusted to the Apostle Paul to make known unto all nations. With verse one of the second chapter, we learn that Paul also experienced conflict (i.e., strivings, anxieties, effort) on behalf of the Church, the Body of Christ. This included the Colossians and all churches who never had the opportunity to meet Paul personally. Yes, the Lord was giving Paul strength and encouragement, but it did not take away from his human emotions and effort. Paul was a real person like you or me, not some super human. He was a man who trusted the Lord to give him the strength to do what he was called to do.
The Colossians, having never met Paul, did not have the opportunity to personally witness the effort Paul made to make known the Gospel of the Grace of God, so Paul wanted them to know how important the Gospel was — it was worth any effort, disappointment, or opposition. Although they could not learn by his example, they had the Word of Christ.
Paul did not want them to praise him for his efforts. His desire was that their hearts be "comforted." This word expressed a desire that they also be convinced of the Gospel's importance and to participate in furthering the truth of Jesus Christ. He wanted their minds to be set at ease regarding the reports they may have heard about him and, instead, to be encouraged and strengthened in the ministry. While you may not like to admit it, if you look back on your adversity, you will probably find that some of your greatest times of growth have derived from difficult times. When our hearts are prepared, the Lord can use such times for His honor and glory.
Along with wanting them to be encouraged in ministry, Paul wanted them all to be united in love. Love is the glue that joins us together for the cause of Christ. The bond cannot be based upon anything other than the love of Jesus Christ, for love is the bond of perfection (Col. 3:14). It is His love that motivates us to serve (2 Cor. 5:14); the same love that was demonstrated to us when the Father sent His Son to die for us while we were still sinners (Rom. 5:8). It is only when comforted and conjoined that we begin to understand the complete persuasion ("full assurance") that comes by acknowledging the Mystery of Jesus Christ that Paul spoke of in Colossians 1:24-27.
Unfortunately, money does not grow on trees. If you want money, you have to find a source of income. If you want spiritual riches and understanding, they are deposited in Christ. You do not find these riches and understanding anywhere else, only in Him. The KJV uses the word "treasures," which are "valuables laid up, that which is precious." It is Paul who was inspired to announce that God the Father has "blessed us with all spiritual blessings in the heavenlies in Christ" (Eph. 1:3). It is Paul who announces that Christ is "the wisdom of God" (1 Cor. 1:24) and "but of Him are ye in Christ Jesus, who of God is made unto us wisdom..." (1 Cor. 1:30).
Paul wanted them to be convinced, bonded, and assured in their riches so that false teachers, using persuasive speeches and compelling arguments and emotional appeals, would not deceive them from the truth of Jesus Christ. Paul had often warned against false teachers as evidenced by Romans 16:18, 2 Corinthians 11:12, Galatians 2:4, and Ephesians 5:6. The danger was that these false teachers sounded very convincing as they were adding to the gospel. The basis for their preaching may have been the Grace Gospel, but they were adding to it, saying their hearers needed Jesus Christ and some personal contribution to secure salvation. Paul did not want the Colossians to be swayed by the lies of those who would preach Jesus Christ plus something else.
What a lesson as we enter 2018. Is Christ the sole reason we do what we do in church and in our personal lives? Could Paul, who is not present with us like he was not present in Colossae, say that he was taking joy in our order? "Order" is a military term denoting soldiers marching in line, following instructions. Such soldiers are not marching to the beat of a different drum but united in a task. Our task is to preach the sufficiency and completeness of Jesus Christ. Are we steadfast in that mission? The Apostle Paul may not be with us, but the Holy Spirit indwells those who believe. May we be found faithful to the One who loved us and gave Himself for us.
Everything they need to know was found in Christ! He is the embodiment of wisdom and knowledge. They needed nothing else. The same is true for us today.
BEREAN BIBLE INSTITUTE
P. O. Box 587
Slinger, WI 53086
Phone: 262-644-5504
www.bereanbibleinstitute.org
E-mail:bbi@bereanbibleinstitute.org