WESTON, Wis.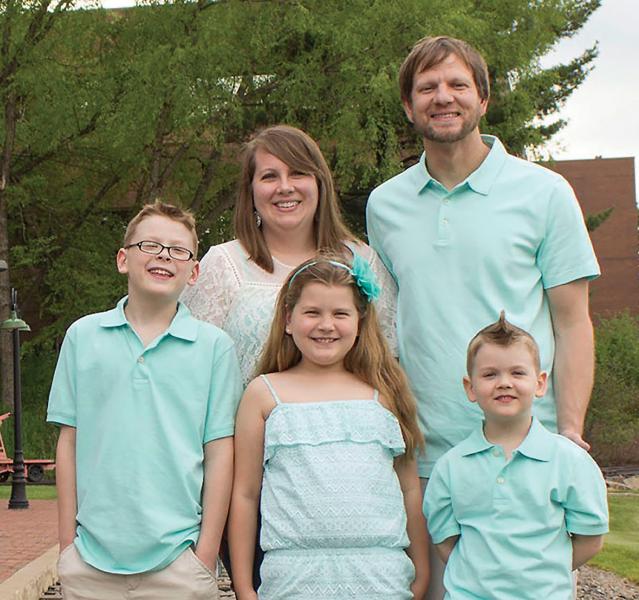 Complimentary Story
Throughout both the the Old and New Testament we read stories of how God hand-picked individuals to serve Him. From Abraham, Noah and Moses, to John the Baptist, Paul and the Apostles, God singled out specific men and women for special assignment. Does God place a special calling on people today? Ask 38-year-old Casey Schifelbine, Youth Pastor at Bethany Baptist Church in Weston and you will receive a resounding "Yes!" In fact, Casey is currently responding to God's second calling on his life.
In his youth, Casey admits to spending a lot of time on barstools. "My father was a bartender in a local bar," said Casey. "Drinking and partying was our way of life. I certainly had no thoughts of entering the ministry."
Others, however, saw something special in young Schifelbine. As a 5th and 6th grade altar boy at Wausau's Holy Name Catholic Church, Casey was told by several parishioners, "Someday you are going to be a priest." "No way!" thought Casey. "I'm not going to be a priest!"
Years later, as a 17-year-old student walking down the halls of Wausau West high school, Casey suddenly heard a voice tell him "You are going to be a Pastor!" "No! I'm not going to be a priest!" was his immediate response. "I didn't even know what a pastor was at that time," Casey admitted.
God, however, always finds ways to convince His people of their calling. In 1998 at age 18, while attending a spiritual production called "Heaven's Gates and Hell's Flame," Casey was convicted and accepted Christ as his personal Savior. Several months later Casey sensed the Holy Spirit telling him, "If you don't stop drinking you will destroy yourself."
Casey began to realize that God was calling him out of his old ways and into His new ways. "I stopped drinking and partying but I was still uncertain about my future."
In 1999 at a basketball night at Immanuel Baptist Church, Pastor Jon Payne asked the question, "What's your life about?" Casey replied: "I have a calling to be a pastor but I don't know what that is." To which Jon replied: "Let's start meeting so I can disciple you."
For the next two months Casey was not only discipled by pastor Payne, he was growing in his faith through his relationship with Bob Mitchell, pastor of the Mattoon Church of the Nazarene where Casey and his future wife, Jen, were attending. "I committed myself to listening to these two men and trusted them to help me understand God's calling on my life," said Casey.
Sometimes God's calling is bold and dramatic, as it was with Saul, on the road to Damascus. Other times, God patiently waits for His servant to recognize all the signposts on the road to ministry.
In 2001 Jen told Casey, "I know I've been called to be a pastor's wife." They were married the following year. By 2003 he and Jen both realized God had a calling on their lives, prompting a move to Colorado Springs where Casey enrolled in the Nazarene Bible College to obtain his Bachelor Degree in Pastoral Ministry.
In 2006 an old friend, Dan Kellogg, Youth Pastor at Ridgefield Church of the Nazarene in Washington State, extended an invitation to join him in the youth ministry at his church. Casey accepted and for the next three years, experienced the rewards of answering God's call to serve. "As a Youth Pastor my greatest joy has been seeing the Gospel of Jesus change young lives the way it did for my wife and me, " said Casey.
In 2011, while searching the internet, Casey discovered an ad for a pastoral opening at Bethany Baptist Church near their home town in Wisconsin. "It offered an opportunity for Jen and I to return to our Wisconsin roots, said Casey. Three months later Bethany had their new, home-grown youth pastor.
As a member of the Converge Great Lakes Ministry, Bethany shared the vision for planting churches in Wisconsin and upper Michigan, something that did not interest their new youth pastor. God, however had a series of spiritual encounters awaiting his young protege to sway his thinking.
By 2014 Casey and Jen began sensing God was preparing them for something different. "Whenever there was a conversation on church planting, my name was always included," he said. Although others considered him a prime candidate, Casey rebuked the idea — until God again came calling.
In the spring of 2016, Casey was in his car in his church parking lot prior to Sunday church wondering about his future. He opened his Bible and read Isaiah 43:18-19: "Remember not the former things, nor consider the things of old. Behold, I am doing a new thing; now it springs forth, do you not perceive it?"
"Those verses gave me great joy and encouragement," Casey recalls. "They actually made me weep; they told me God was about to do something special in my life."
Later that same year while on Sabbatical in the mountains of Tennessee with his family, still seeking God's guidance, Casey read Deuteronomy 12:5: "But you shall seek the place that the Lord your God will choose out of all your tribes to put His name and make His habitation there. There you shall go..." "Those words literally jumped out at me," said Casey. "The word "Go" confirmed what others had been telling me, to go and plant a new church in Marshfield."
Whatever doubts or fears Casey still had, they disappeared while he was on his way to attend an informational church plant meeting at Faith Fellowship Church in Marshfield.
"I experienced an overwhelming feeling of peace and contentment as I entered the city," said Casey. "I'm home!" he whispered. "I knew in my heart this is where God wanted me to preach His Gospel."
What kind of Church does Pastor Schifelbine envision? "A church for people who don't go to church," he said. "A church where people can experience the life-changing power of Jesus Christ; a church that goes out into the community to serve and share the love of Christ."
For Casey Schifelbine it's been a long journey; from tavern barstools to Bible College, to the Pastoral youth ministry and now as future Senior Pastor of a new church plant in Wisconsin.
"God always knows what's best for us, even if we are a little slow in grasping His vision," Casey said with a grin. "All we need to do is trust Him."
For additional information regarding the new church plant in Marshfield, or to provide prayer and/or financial support, you can reach Casey at schifelbinect@gmail.com, or meet him at the 9:00 or 10:30 am Sunday morning worship service at Faith Fellowship Church, 217 McMillan St. in Marshfield, on Sunday, January 21, 2018.