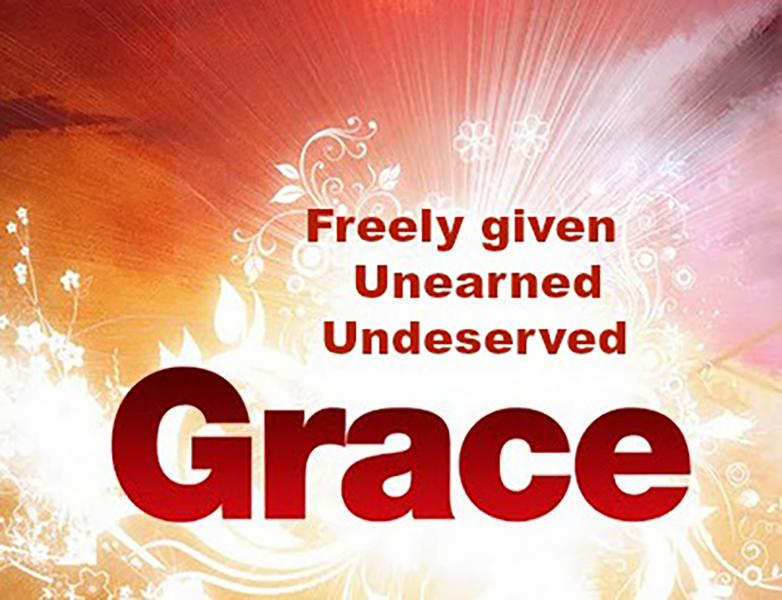 Complimentary Story
Grace: That exquisite gift from God that we receive through no efforts of our own — God gives it to us freely because He loves us. Grace is defined as: (in Christian belief) "the free and unmerited favor of God, as manifested in the salvation of sinners and the bestowal of blessings." As sinners born with original sin, God gives us this gift because He loves us unconditionally and wants us to come to Him in heaven.
But, we as humans, feel that we can do a better job than God, so, we don't always use God's gift of grace wisely, and instead of His gift helping us, we ignore it and go about our merry way. We may even rationalize that we don't need help, we are doing just fine without God's help. But the question we need to ask ourselves: Do we really do well without God's help?
Isn't it in the times when we turn our backs on God that we usually end up making mistakes and hurting others because we don't take time to thank God for our families, our friends, our livelihoods or other gifts that we have received through Him? Do we use this gift of grace to help others as Christ would do if He were still on this earth, or do we ignore it and go about our daily lives without giving the grace we have received a second thought? I know I often forget to take time to thank God for this free, wonderful gift.
Some of us in society are committed to taking time to use this gift to help others. For instance, Priests for Life in Florida (yes, Florida as they recently relocated their headquarters to Florida). Fr Frank Pavone, the founder of Priests for Life, has given himself tirelessly to assisting women learn about abortion and its deadly effects to both Mother and unborn baby. In addition, he travels throughout the country educating people of all faiths about the sanctity of life and the need for reconciling women to God, helping them realize that God is all-forgiving, if anyone is truly sorry for whatever wrong they have committed against another human being — whether it be abortion, stealing, slandering someone's good name or printing libelous information about them. Fr. Pavone is about healing and embracing God's gift of grace.
Fr. Pavone travels throughout the country to bring this message of healing and grace, to help us embrace this grace. As a matter of fact, Bella Medical Clinic is proud to have Fr. Pavone as our keynote speaker at our 2018 spring banquet. He will be bringing his message of love and grace to Oshkosh, Wisconsin on June 7, 2018. Fr. Pavone will share his knowledge with people of all faiths. He may be the director of Priests for Life, a Catholic organization, but his message is one of life and caring for all those affected by abortion. As many of you know, abortion not only affects the woman who has the abortion, but her unborn child, the baby's father, and the immediate as well as the extended family of that child.
Mark those calendars for this wonderful learning opportunity to hear Fr. Pavone at the Bella Medical Clinic banquet June 7th, 2018 in Oshkosh.
Additional information will be announced as it becomes available. For more information, contact Bella Medical Clinic, 920-231-6006.
If you know that you cannot be part of this year's banquet, you can always donate online at:
BellaMedicalClinic.org.
If you wish to be a sponsor for the banquet, contact Beth Nemecek at Bella.