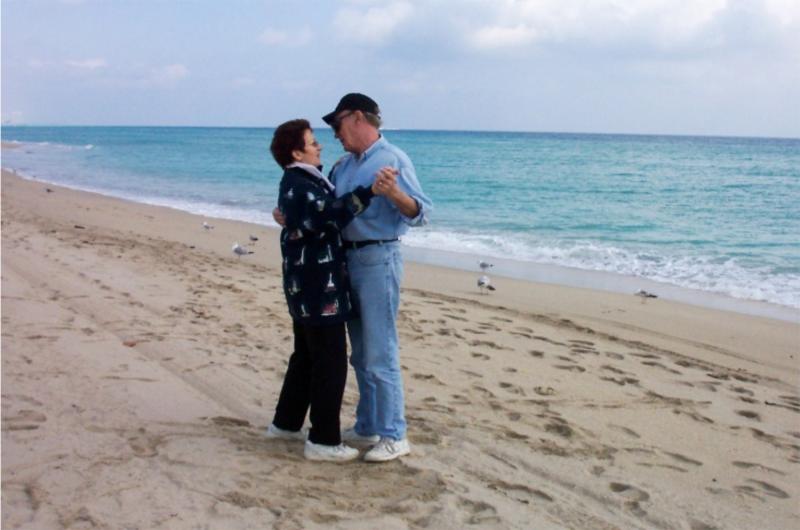 Complimentary Story
I don't recall paying a lot of attention to it at the time. She had many pro-life and spiritual verses attached to our refrigerator door. Besides, it was a small plague, and of a color that was not so noticeable. But when I discovered it, I knew this message by Jody Hills was meant only for me.
"I can't take the chance that you don't know how much it means to me you carrying my hopes," it reads. "Like precious cargo and traveling with me to dreams come true . . . So I will tell you again and again, as if it was for the first time. It is an honor, it is a privilege, it is a joy to share with you the path."
She was like that. Have you ever had a Divine Appointment? I have. I believe we were in love with each other before we met. She was the one I prayed for each morning, and then there is this old card Suzy gave me shortly before we were married that tells her story. Although faded by time, it gets more precious as years roll on.
"The way is long, let us go through it together,"
the front reads, with a picture of a long path through a beautiful wooded area of trees with golden leaves.
"The way is difficult let us help each other,"
it continues.
"The way is joyful, let us share it . . ."
"I bought this card in 1980 for someone special," she wrote. "I've held on to it until just the right time. No one came close to me wanting to give it to, until now. In 1980 the way was difficult. That doesn't hold true today, but I'm sure there'll be hard times...But the way is joyful, you make my heart sing. The way opens before us. Let us begin . . . You are the one I was waiting to give this card to. I love you!"
And begin we did, we slow danced on the sand of Hollywood Beach FL, and swung to "Proud Mary" as the big wheel turned on the Mississippi Queen.
"He's so precious, you just gotta love him,"
she wrote to her grandchildren.
In this world of ceaseless troubles, it is heartwarming to experience moments of what true love is really all about . . . Have you ever walked down the street, or while driving during the day, witnessed an elderly lady take her husband's arm, or seen a gentleman helping his wife in or out of their car, not because they have to do these things, but because they want to. It can bring a tear to the eye of anyone who may be watching the beauty of it all unfold. Sharing a sunrise, drives in the countryside, holding arms, slow dancing, it's all part of romance. The sound of the word brings back memories . . . But true love is not only sharing a sunrise — but being there when the sun sets.
At a Christian Expo a man approached me holding a copy of a love story I had written for the
Wisconsin Christian News,
and told tell this interesting story . . .
"At a visit I made to a nursing home I witnessed a patient who was unable to move or open his eyes, his mouth frozen open. His wife sat spoon feeding him. She is never in a hurry, wipes his face, like cleaning up after a little child, then gently touches and affectingly kisses his cheek. I mention I have never seen such love before." 'We still love each other,' she said, 'he just can't say it.' I gave her the paper with your love story!"
I read about a little girl who asked her grandmother why she starched and ironed her grandfather's overalls each evening. She didn't think he was particularly hansom.
"You just aren't looking in the right light,"
grandmother said.
"I want to show him off. To me he's the most beautiful man God ever made."
I remember Eli and Karen sitting together on our high school bus.
"I knew she was the one for me the first time I saw her,"
Eli told me. They were married during college, and Eli became a famous basketball coach. But life can have it's hard times. After fifty two years of a loving marriage, Karen had a stroke, and slipped into a coma.
"Doctors wanted to pull the plug,"
Eli said,
"but I just couldn't do it."
He sat by her side for 75 days praying until one day she awoke. Before her death, Karen needed total care for eight years at home, and Eli was there to provide it.
"I know she would have done the same for me,"
Eli said lamenting.
"I've looked and looked for just the right card, and none say all I really feel,"
Suzy wrote on a card to me. Two months before her passing, she gave me another card. She again, must have looked through dozens of cards to find that special one that still brings a tear to my eye.
I thrill to every word, every line
. Although her hand writing was not as steady as it once was, her message was still as loving.
"To my beloved, Paul! I love to kiss and love and snuggle with you,"
she wrote.
"You are my love, forever!"
Suzy lived a number of months past the prognosis time doctors had given her.
"I don't know what it is like to have cancer,"
she said. Later one evening, Suzy saw two men (angels) sitting in our room and asked me who they were. I couldn't see them. On the evening of February 9th, 2013, I crawled onto her hospital bed in our home, snuggled beside her, and whispered into to ear. Her eyes were closed and she was unable to speak, but somehow I believe she heard me.
"It's okay to go and be with the Lord,"
I said.
"We'll always be together."
In the early hours of the next morning the angels took her away. Until that time, I believe she was staying alive just for me.
"Not many find what the two of you had together,"
her sister wrote.
After coming home one day, I found this letter from a caregiver tucked inside my door;
"Before I was assigned to care for your wife Susan, I asked God to show me what love is, and I wanted to tell you this before my departure. Through witnessing your devoted love for your wife, I feel that my prayer was answered . . . how beautiful your love and commitment is . . . Thank you for allowing me to experience such Divine love . . ."
Although there is no marriage in heaven, we will still be with our spouses -- and be even closer than before. Everything about continuity from this life to the next we should expect to be special, and continue forever. So we will look back at the times we were soldiers in the trenches fighting the pro-life battle, Suzy; the times I read the Song of Solomon to you, and the great fun we had slow dancing on the sand — and we'll do it together.
Jesus says He prepared a mansion for you to live in, Suzy. So when you see me coming down that long path of beautiful trees with golden leaves like the card you gave me long ago, take my arm — as you always did — and lead me through . . .