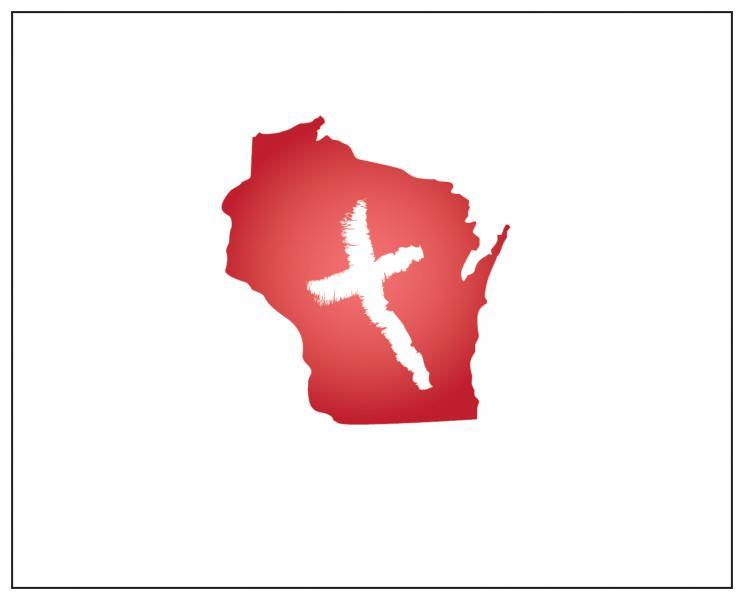 Complimentary Story
(Editor's note: this article was originally released in 2015, and has been updated to reflect additional information).
It was in December of 1999 that Marshfield's Rob Pue sold the photography studio he had founded more than a decade earlier in his hometown, and answered God's call to start a Christian newspaper. There were 120 Christian newspapers published in the United States and Canada when the first issue of
Wisconsin Christian News
hit the streets in April of 2000. Today, Wisconsin Christian News
(WCN)
is one of only 13 still in print.
Despite the many challenges and competition facing today's newspaper industry,
WCN
continues to have a strong following. "Our print edition readership is greater than ever," Rob said. "But we are also adapting to the times, with our website, which people make use of from desktop computers, laptops, tablets and smart phones, as well as a very active Facebook page, where we can post daily news updates and keep people posted on breaking news stories and items of interest."
Reflecting on his 18+ years of bringing the gospel message to the streets of America, Rob is quick to credit God for the success of the paper. "This has definitely been the toughest job I've ever loved, and it hasn't been easy, but no matter how desperate our situations have become, God always managed to raise up individuals, ministries or businesses to join our team and help keep us going," said Rob.
Rob is quick to point out that
Wisconsin Christian News
could not survive if it weren't for dedicated and faithful Christians throughout the country. "Our newspaper is a combined effort of ministry partners working together to publish this newspaper," he explained. "None of us alone could make this happen.
WCN
is a testimony of what is possible when Christians unite to do God's work."
At first, the paper was available primarily in Wisconsin. Today, the printed version of
WCN
is read nationwide and visitors to the paper's website come from all over the world. Except for fees received from monthly mail subscriptions, the paper is free to readers who pick them up at various outlets throughout the Badger State. The primary revenue source for
WCN
is from donations from individuals, as well as ministries and businesses who advertise in the paper.
Rob's biggest challenge is meeting monthly expenses. "God always provides the finances we need each month, much like manna," he said. "We seldom have enough to store up for later, but always just enough for today."
Although he does have some delivery help, Rob still drives about 4,000 miles on the road each month, delivering newspapers and calling on existing or potential advertising partners to the paper. One of his most faithful volunteer distributors recently passed away at the age of 81, and will be dearly missed. Zaida Thompson who delivered 600 - 1000 copies of
WCN
a month, every month, even though she was confined to a wheelchair!
Time away from home and family, car maintenance and repair costs, inclement weather, missing or stolen newspaper racks (averaging $40 - $60 each), printing, postage, and lost revenue from unexpected advertising cancellations, all provide an on-going reminder of the challenges and sacrifices that are part of publishing a Christian newspaper.
"There have been times I wonder if I can continue," Rob admitted. "But then I receive an encouraging phone call, an e-mail or letter from someone who has been touched by this work, and I see how God is reaching people through this ministry -- that never would have happened if we were not here." Like the the man who called Rob to tell him that a story in
WCN
about Wausau's Hope Pregnancy Center had saved a baby's life. A young woman, planning to have an abortion changed her mind at almost the last minute, because of the
WCN
story and turned to the Hope Center instead.
Or the traveling businessman from Ohio who came across a copy of
WCN
at his motel in Appleton. Having had another argument with his wife, the man admitted he was depressed and contemplating divorce. Instead of seeking solace at an adult bookstore that night as he had planned, the man stayed in his motel room and read the
WCN
"from cover to cover." He told Rob that after he spent the evening reading
WCN,
he felt like he had "a reason to live." Testimonies like these have a way of recharging one's spiritual batteries. "It is amazing how God sends me encouragement like this from our readers, at just the time I need it the most," said Rob.
In addition to his heavy workload with the paper, Rob also does a popular radio commentary program that is heard on the VCY America Radio Network, Tuesdays at 3:15 PM and Saturdays at 2:15 PM. The program is aired on more than 100 radio stations coast to coast.
In 2003, Rob began sponsoring and coordinating the
WCN Ministry Expo,
an annual spring event held, at first, at various churches but later moved to public shopping malls in an effort to allow ministries to reach the general public with the Gospel of Christ. Several years ago, the event became known as the
WCN Ministry Expo AND CONFERENCE,
as some of the nation's most noted Christian speakers have been brought in to present a Conference to go along with the Expo, addressing the most vital issues our nation and world is facing today.
Since that time, the event has grown tremendously, and since the newspaper is now distributed nationwide, visitors come from all over the United States to attend the Conference. Last year, a large group from Canada even drove all the way from Ontario to be there! This year's event featured the best lineup of speakers ever assembled in one place, and it was very powerful. Much fruit was borne during this time, and many hearts and lives were changed!
Last spring, immediately after the Expo and Conference, God provided yet another miracle: the ability for the ministry to acquire a downtown commercial building that has been turned into the
"Wisconsin Christian News Ministry Center,"
a place for education, information, teaching events, as well as discipleship training, serious Bible study and outreach to the lost and seeking. It is Rob's hope that this Ministry Center will serve as a beacon of hope to the lost, as well as provide opportunities for mature Christians to use their varied gifts and skills in ministering to others locally. Because of Rob's heavy schedule in other areas of ministry, including the newspaper and radio ministries and speaking events in other states, the Ministry Center is currently in real need of volunteers to come forward and help facilitate many of the programs that have been planned. And the Ministry Center is not just for LOCAL outreach — they hope to do outreach, street ministries and other events all throughout Wisconsin, if God provides the help needed to make these things possible.
Rob is quick to point out, though, that help is seriously needed if
WCN
is going to continue long into the future. "A few years ago, it became necessary to seek donations from readers to keep the newspaper in print. Thankfully, the readers responded, and
WCN
is now primarily funded by individual monthly donors, though advertising in the newspaper, on the website and Facebook page is also available. If it were not for these faithful supporters,
WCN
would have gone the way of most other Christian newspapers, and would no longer exist," he said.
Although donations to
WCN
are not tax deductible, many people have come forward to help with the work, but the monthly budget is still only about 50% funded, so monthly pledges are badly needed right now.
"I was very hesitant to go this route," Rob said, "but clearly other Christian media needs this type of support, so it is not unreasonable that we would too. Christian radio stations do 'share-a-thons' several times a year to help meet their budgets, and it just became obvious that if we were to continue we would need to do the same."
Wausau's Larry Lombardo, an avid reader and supporter of
WCN,
is keenly aware of what's at stake in the WCN ministry. "If
Wisconsin Christian News
stops publishing the Word of God, then Satan wins," said Larry. "As Christians, it's our responsibility to make sure
WCN
doesn't end up in Satan's trophy case like other ministries that have had to end because of finances."
Dr. James Bowman has been a Ministry Partner with
WCN
for most of the paper's existence. He, too, understands that Christians need to come alongside the paper, lift it up and make sure it continues.
"Among the many things I am most grateful for is Rob Pue, our editor and creative genius behind
Wisconsin Christian News.
You know the saying, 'You don't miss your water until they well runs dry?' Well, Rob is the wellspring of wisdom, compassion, honor, faith, humility - if you don't think so, just go a month or two without reading the articles in his paper - when the well dries up, you will realize what you have lost."
Rob explained that while some newspapers and magazines are going to an all-electronic format, and ending their printed versions, this would simply not work for
WCN.
"Our printed version is the OUTREACH part of our ministry," he said. "People pick up the printed version of the paper in grocery stores, hotels, restaurants, truck stops, and places like that, places out in the public...and because we are in a newspaper format, people pick it up and read it and this is how we are able to reach literally THOUSANDS of people who might never set foot in a church, or who would never give a second thought to a Bible tract or book. It has been an extremely good way to reach the unsaved and uninformed."
Printed copies of
WCN
are also available by paid subscription, and there are readers in nearly all fifty states now.
"But our online version is really meant to be a resource for Christians, as they need to go there intentionally to find it. The printed version finds them; the online version is a great resource for further information and study for growing Christians."
Now, as
WCN
is starting it's 19th year of publication, there are thousands of articles archived on the website, along with audio messages, video segments, links to ministries from around the state, a National and World news feed which is updated daily, an online calendar of events, a monthly reader poll, and much more. In addition, the
WCN
Facebook page readership has grown dramatically over the last year.
Regarding the printed papers in public places, nearly every news rack runs out of copies within about a week to ten days. "We are seeing nearly a 100% pickup rate at every location," Rob said, "which is unheard of for just about any kind of publication. There is a real hunger and thirst for
WCN
out in the public." He added that every one of his volunteer distributors ask for more copies every month, and he could easily use thousands more copies, if he could afford to have them printed.
But last fall, something unheard of happened in the newspaper industry: the cost of newsprint paper increased drastically, causing many newspapers to have to close down. The Christian paper in Oregon shut down overnight after 30 years, because their costs to print rose 78% overnight. Then it hit nationwide, impacting even Wisconsin. For
WCN,
that has meant an overall increase in costs just since last fall of over 45%, with more increases predicted every month through the summer, at least. "Without the continued — and even increased — support of our readers, this is going to be unsustainable. This is something we have never seen before, but it is a nationwide and industry-wide situation. EVERY newspaper and every printer is dealing with the same issue. It seems like a concerted effort to eliminate printed news publications from existence. But this is coming at a time when our readership is higher than it has ever been. Ironically, we have more readers of our printed newspaper now than we have EVER had before, and at the same time, our advertisers are fewer than ever before, and if it were not for our faithful financial supporters, yes, the devil would win this one," Rob said.
One more challenge: in places where they are not allowed to place their own newspaper racks, they must rent rack space from third party rack companies that have contracts with the businesses. These rack rental fees range anywhere from $8 to $50 per month, depending on the location, and
WCN
has literally hundreds of locations throughout Wisconsin to maintain.
But things have changed in this regard as well, over the years, as there are now many stores that will not allow
WCN
to be distributed at their locations at all, specifically because it is a CHRISTIAN newspaper. "Some store owners tell us they don't want anything 'controversial' or 'religious' in their stores, and so we're not allowed in." Ironically, many of these same stores DO allow extremely liberal publications, especially those espousing the "LGBT" lifestyle. In larger cities like Milwaukee, in some store locations, the two publications are side-by-side on the racks.
"I had been stocking papers in these places for several months when it suddenly dawned on me that here we are, side-by-side in the newspaper racks with this (other) paper. It reminded me of Deuteronomy 30:15:
'Behold, I set before you today life and prosperity, death and destruction.'
People have a choice... what would happen if
WCN
were suddenly gone and the only choice was this other paper and the further leftist indoctrination and misinformation it provides?"
Nineteen years ago this month, Rob Pue introduced the first edition, 12-page issue of
Wisconsin Christian News
to Wisconsin readers. Today the printed paper is 48 pages, packed full of material with something for every member of the family.
So as
WCN
begins it's 19th year of publication, we wonder: How many future issues of
WCN
will grace the streets of our state and the U. S.? "That's entirely in God's hands," acknowledged Rob. No doubt the Lord will continue to call on His people to help answer that question.
For further information about becoming a member of the WCN Ministry team; to become a financial contributor, volunteer distributor, helper at the Ministry Center facility or to help in other ways, please contact Rob at
715-486-8066
or send an email to:
Rob@WisconsinChristianNews.com
. You can donate to the ministry directly on line here: http://
www.wisconsinchristiannews.com/donations.php
Website:
www.WisconsinChristianNews.com
. Also, please look for
"Wisconsin Christian News"
on Facebook, and "like" and "follow" their page for daily updates.