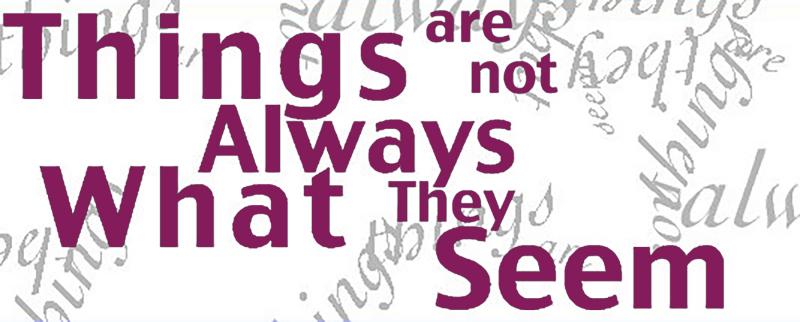 Complimentary Story
In middle school, my family moved across town. Our new house happened to be right across from the high school's (award-winning) cross country coach. To my recollection, he was one of the first neighbors to come greet us; although it was soon apparent that he had some ulterior motives.
For the following two years, he would spend great stretches of conversation convincing my parents that I had the perfect physique (ie: scrawny) to be the next great cross country star. He seemed so sure of his analysis that we all accepted it as truth. I couldn't have been more excited on the first day of high school to join the cross country team and begin training for my all-star career!
Things aren't always as they appear.
It looked as if I had the physical makings of a long distance runner, from the outside at least. Weren't we all surprised to find out that I could actually walk faster than I could run! By the third week of practice I had gotten left behind by the team as they ran the outskirts of town so many times that the coach decided I should probably ride my bike with them in order to keep up. It was a shocking season for me as I had to re-calibrate my own perception of myself. I was not who I thought I was.
There is a group in the Bible that reminds me of "middle-school me," the Pharisees. Culture exalted them as the religious experts of the day. Their communities operated around their wisdom and decisions. Everyone was telling them they were "all that." And then Jesus came to town.
Jesus came and weren't they all surprised to find out....Matthew 23:27 (New International Version) "Woe to you, teachers of the law and Pharisees, you hypocrites! You are like whitewashed tombs, which look beautiful on the outside but on the inside are full of the bones of the dead and everything unclean."
Things aren't always as they appear. Sometimes our actions may seem godly, to ourselves and to others, like the Pharisees of Jesus' day. But God doesn't look only to the surface of our lives, He looks right in, all the way through to the heart and its motives. Proverbs 16:2 (New American Standard Bible), "All the ways of a man are clean in his own sight, But the LORD weighs the motives." Psalm 44:21 (NASB), "Would not God find this out? For He knows the secrets of the heart."
We can be in control of our works, but the life that truly honors God has yielded up its control and surrendered. It is out of that surrender that God asks us to participate with Him in His Kingdom work.
In the Old Testament, we see a similar lesson on how God often views life and people differently than we do. The prophet Samuel has been charged with anointing a new king for Israel, and the choice seems obvious. Judging by his looks, Samuel assumes that the Lord will want him to anoint Eliab. Again, the clarifying voice of God comes on the scene. 1 Samuel 16:7 (New International Version), "But the LORD said to Samuel, 'Do not consider his appearance or his height, for I have rejected him.' The LORD does not look at the things people look at. People look at the outward appearance, but the LORD looks at the heart." Of course we know how the story ends...the Lord chose the youngest brother, not the biggest and best, to become king and a man after God's own heart.
Things aren't always as they appear. Here is some wonderful hope though — sometimes things are BETTER than they appear!
2 Corinthians 4:7 (New International Version), "But we have this treasure in jars of clay to show that this all-surpassing power is from God and not from us..."
Outwardly we may not be much to look at, a clay jar, possibly even with a few cracks! But inwardly, thanks to the gracious gift of the Holy Spirit that is ours through Christ, we have a great treasure. We are rich! No matter the amount in your checking account, no matter your physical appearance, no matter your title at work, no matter your own natural abilities...things aren't always as they appear!
What in your life is not as it appears? On the outside do you bear the marks of an illness, but inwardly have the healed heart of a Victor? Do difficult circumstances press you from all sides, but what is released from the crushing is a God-honoring joy? Do you rejoice that you have great wealth, even if your checkbook is running on empty? God desires that we live our lives beyond the appearance of what they should be. Through our surrender to Him, He has given us a very great and precious gift so that we can represent Him beyond our natural abilities. He has given us this great gift in very common wrapping so that we don't become proud and try to steal the glory that is His for ourselves. Our "clay jars" are perfect for carrying the richness of the glory of God in our lives and for pouring out that treasure into the lives of those around us so that they might be transformed also.
Things aren't always as they appear. In the life of a Believer, this should be evidenced to the world as we live a victorious life that by all appearances should be beyond our own ability. And it is...but it is not beyond God's ability! Hallelujah! This victorious living is ours in Christ. What is visible at first glance about us should pale in comparison to the truth and power that resides in us.
2 Corinthians 4:6-10 (English Standard Version), "For God, who said, 'Let light shine out of darkness,' has shone in our hearts to give the light of the knowledge of the glory of God in the face of Jesus Christ. But we have this treasure in jars of clay, to show that the surpassing power belongs to God and not to us. We are afflicted in every way, but not crushed; perplexed, but not driven to despair, persecuted, but not forsaken; struck down, but not destroyed; always carrying in the body the death of Jesus, so that the life of Jesus may also be manifested in our bodies."
Things aren't always as they appear! Hallelujah!
Chris McMahan
Email: Happy1970@icloud.com