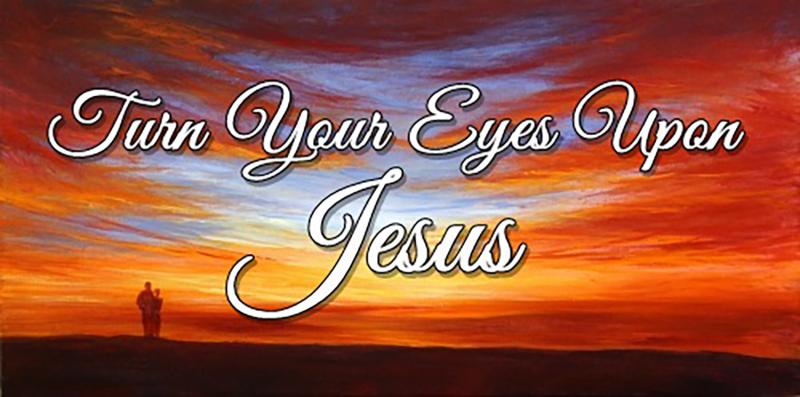 Complimentary Story
James 4:8,
"Draw nigh to God and he will draw nigh to you….."
Peter kept his eyes on the Lord and walked on the water towards Jesus. When Peter took his eyes off the Lord he gave in to fear, doubt, and disbelief and he started to sink. Peter learned the importance of keeping his eyes on the Lord.
We also need to keep our eyes on the Lord lest we veer off course into Satan's snare.
This snare has many names such as distraction, popularity, doubt, prestige, self-sufficiency, acceptance, wavering, fear, uncertainty and, of course, faithlessness.
When we take our eyes off the Lord we fall prey to Satan; we constantly shift to please others (not God).
There are many people who have been faithful to God but became distracted by earthly things and veered off course into idolatry.
Solomon, who was blessed with wisdom from our Lord, gave in to pagan worship to please his many wives. While Moses was alone with God on the mount, Aaron pacified the restless Israelites by making a golden calf for them to worship. Jonah tried to flee from the presence of the Lord putting his personal ambitions ahead of obedience to God, and countless other examples are presented in the Word.
An unfocused mind is like a pendulum swinging back and forth.
Keeping our eyes on the Lord is essential in a Christian's walk.
When we keep our eyes on the Lord we have attention, certainty, belief, acceptance, willingness, firmness, boldness, and faith.
When we keep our eyes on the Lord we are steady and sure in our walk and we please the one true God. Sure footing is a sign that we are in God's will and will receive His blessings.
This is because our Lord is guiding us as we listen to Him. He is drawing near to us as we draw near to Him.
Hebrews 13:15,
"By Him therefore let us offer the sacrifice of praise to God continually, that is, the fruit of our lips giving thanks to His name."
One way of staying focused on our Lord is to continuously praise Him. Our actions will mimic our thoughts.
When our minds are focused on the Lord then our minds will be still and we will have a Biblical worldview.
This is true for societies as well as for individuals.
A decaying society is one that does not praise nor give thanks to the one true God.
Romans 1:21,
"Because that, when they knew God, they glorified him not as God, neither were thankful; but became vain in their imaginations, and their foolish heart was darkened."
A decaying society is an immoral society and is not receiving God's blessings.
Romans 1:28,
"And even as they did not like to retain God in their knowledge, God gave them over to a reprobate mind, to do those things which are not convenient."
Why would a society that promotes abortion, euthanasia, gambling, recreational drugs, and debauchery receive God's blessings?
Sin is considered "normal" to unbelievers but to God sin is "grievous" and repentance is necessary. When we repent God turns from His wrath.
Whether we receive God's blessings or God's wrath it is always God who is in control…..not us.
A society that puts the one true God above itself and walks in His ways is a society that will thrive. Its people know right from wrong and will insist on morality.
But right now, in 2018, countries around the world have been turning from the one true God.
Ireland recently approved abortion in that country and there were people cheering in the streets over the right to kill innocent preborn babies in the most torturous methods possible.
A man named Tommy Robinson was quietly livestreaming a Facebook video in the United Kingdom on Friday, May 25th outside a courthouse where several Muslim men were being tried on charges of drugging, raping, and trafficking children.
Many viewers saw him being surrounded by police and being accused of inciting a "breach of the peace."
He was taken away. Without access to his lawyer, Tommy Robinson was tried, convicted, and sentenced to thirteen months in prison, all within a few hours. Also, a gag order was immediately placed on the media in that country regarding this case.
Even in the United States, June will mark LGBTQ+ pride events all over the nation and we continue to sanction abortion on demand.
A society that does not revere the one true God has no intention of valuing human life from conception to natural death.
If we want to receive God's blessings we must walk in His ways and live a life pleasing and honorable to Him. Pray without ceasing. Stay focused on the Lord.
We must live for the one true God! We were born to worship Him.
We must stop and realize what He has done for us and give Him the glory and praise due Him.
In such turbulent times, keep your eyes on the Lord and don't be distracted.
Hebrews 12:2,
"Looking unto Jesus the author and finisher of our faith; who for the joy that was set before him endured the cross, despising the shame, and is set down at the right hand of the throne of God."