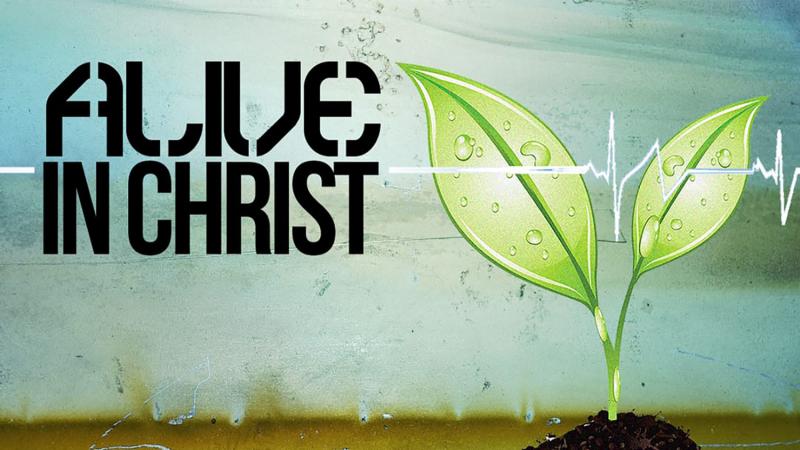 Complimentary Story
In Colossians chapter two, Paul spoke of believers as having "died with Christ," which separated them from the rudiments (i.e., order, desires, goals) of the world. Already in the letter to the Colossians, Paul has made the case for the sufficiency of Christ reminding them that He is God, Creator and Savior. Also in chapter two, he makes the application that the believer is finished, made complete, in Him - no religious activity will bring you any closer, no mystic experience will make you any richer, no amount of punishment will make you any holier. Having laid out this truth, we now come to chapter three.
Verse 1 — While the English language certainly has verb tenses. (e.g., be, being, been, has been, etc.), some other languages' verbs have more depth. The verb "risen" in verse one of Colossians 3 means, for believers, that this was done by God the moment they believed that Christ died for their sins, was buried, and rose again. Before we trusted in Christ, we were all spiritually "dead in trespasses and sins" (Ephesians 2:1). Even after trusting in Christ "death works in us" physically (2 Corinthians 4:12). But thank the Lord that every believer has been spiritually raised to "newness of life" with the Lord Jesus Christ with the guarantee of a future resurrection in which they will receive an eternal glorified body (I Corinthians 15:51-53; Philippians 3:20-21).
If it is true that the believer is eternally secure after trusting in Christ's work to save him, why does Paul use the word "if" to start verse one? Contrary to some explanations, the word is not synonymous with "since." While it is certainly true that Paul never assumed the salvation of people just because they went to church, this "if" is not the "if" of doubt, but of argument. Paul is challenging them to take their completed position in Jesus Christ to look up and live this new life out. It's like saying to your 13-year old son, "If you are thirteen, act like it." It is not a question that he has reached the age of thirteen, but a challenge to live out this truth in his behavior. This is what Paul wants of the believer, to live out the truth of our heavenly position in our actions.
Those raised to a position in Jesus Christ are commanded to continuously "seek" ("pursue after, strive for, endeavor to attain") the heavenly, spiritual things. The main goal of the believer is not to get rich, become popular, win trophies, or live a good life; the goal of the believer is to honor our Savior in whatever we do — rich or poor, popular or not, win or lose. There is no room for an indifferent approach or a complacent attitude. This pursuit is not just a Sunday morning thing but an every second of every day desire. It is endeavoring to spend more time in prayer, striving to study the Bible, and pursuing service to the unbeliever and believer. It is a goal to love your neighbor, be patient with your co-workers, and be kind to your family.
Believers have a place reserved for them at the Father's "right hand," which is always, in Scripture, a place of favor, privilege, and honor. This is where Christ is seated, and we are seated positionally with Him (Ephesians 2:5-6). Our eternal position and ultimate destiny resides there, so whatever I am doing down here now is to honor the One up there. To seek those things which are above" (Colossians 3:1) is having our priorities and goals in line with our Savior and Lord. He is our desire and He has given us the victory to live according to our position in the heavenlies. The spiritual blessings of Heaven are more to be desired and sought after than the physical and temporal things of earth.
Verse 2: Here we are told to "set our affections" ("think on, reflect, contemplate") on those things above. Our minds are to be actively, continuously engaged in thinking, intellectually comprehending, and reasoning through the things which are above, namely the Person of Jesus Christ. This is your decision, an act of your will, to decide to make it a habit to set your attention on spiritual things and to let the Holy Spirit renew your mind. This instruction goes deeper than our personal goals, desires, and plans. What do you love? What do you obsess about? What captivates you? Whatever it is, you'll give time, resources, effort toward it. You think about it and are infatuated with it. We are called to prioritize and long for the spiritual things we have "in Christ."
Think of how you respond to the day-to-day situations that come up in life. Consider the opportunities that are presented to you each day. Reflect on the decisions you encounter. Is your desire to know your Savior more? Do you attempt to serve Him? To tell others about Him? To live out your perfect position in Christ so that others take notice? To not be distracted by the temporary things below? To not be depressed by the everyday situations but rejoice in our victory "in Christ?"
Then, Paul goes right back to reminding them of the change that took place when they trusted in Christ (v. 3). "You died" is the same word found in Colossians 2:20. The old man is dead. We no longer serve sin. We do not have to be captivated by sinful pursuits, lustful desires, and the temporary satisfactions. That life is gone. We are a new creation with a higher calling.
Our life is "hidden" with Him in the heavenlies. This verb tells us that as it was done in the past, it will always be. Your life being "hid with Christ in God" speaks of eternal security and satisfaction.
Verse 4: There is no doubt that if you have trusted in Christ, "whenever" (at the given point in time") Christ appears, you WILL be with Him in glory.
The temporary life we live here on earth is to be lived in light of our eternal state. Live it in a way now that will reflect what you will one day be. Since Christ has given us life, Christ should be central to the life of every believer.
BEREAN BIBLE INSTITUTE
P. O. Box 587
Slinger, WI 53086
Phone: 262-644-5504
www.bereanbibleinstitute.org
E-mail:bbi@bereanbibleinstitute.org