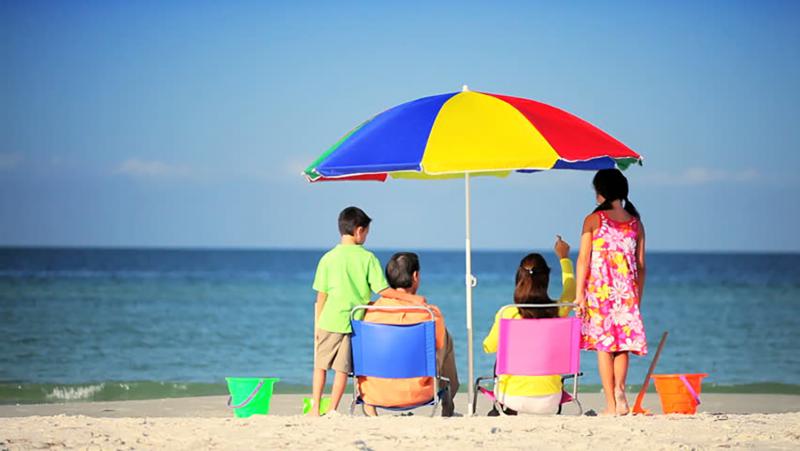 Complimentary Story
At the beach this last week, I observed many families setting up 'camp' for the day in their sandy paradise. One dad was really struggling to get his rainbow umbrella up, but he kept at it until finally it formed a beautiful canopy over his little spot. A few minutes passed and it soon became apparent why he had worked so hard at his task. This umbrella wasn't just providing shade for himself, but for his wife and infant child. This umbrella was his canopy of protection and blessing over his family.
Psalm 91:1-4 (New International Version),
"Whoever dwells in the shelter of the Most High will rest in the shadow of the Almighty. I will say of the LORD, 'He is my refuge and my fortress, my God, in whom I trust.' Surely He will save you from the fowler's snare and from the deadly pestilence. He will cover you with His feathers, and under His wings you will find refuge; His faithfulness will be your shield and rampart."
Is your life an umbrella of blessing over those you live with and have been put in charge over? Authority, properly administered by God's design; provides blessing, protection, and prosperity of soul. Authority positions us to be an umbrella of blessing over those whom our authority covers.
The dad does not set up his umbrella as a first step in forcing his wife and child to sit there; no, he sets it up so that they may choose to be blessed and comforted by the shade it provides. God made us to have choice — the choice to yield in love to His authority, or in rebellion to reject it. Authority is not about control. God doesn't use His authority to control us, but designed it to be in place over those who would choose to submit to it as an umbrella of blessing, and a place where deep relationship and fellowship can happen. May our hearts be like that of the Lord. Understanding God's intent for Biblical authority is a necessary first step before we can truly define and understand Biblical submission; and before either role can be lived out in a way that pleases God.
We will deal with the topic of submission in the next edition, but first let us look at authority. These two roles, authority and submission, were designed by our Creator's perfect hand to fit perfectly together.
God has woven a canopy of authority into the fabric of our lives. Each of us is supposed to be living under multiple layers of authority, and we each are also placed over others in a position of authority. The order that God created in our world requires authority to be in place. Scripture tells us that God is over government, which is over churches, which is over elders, who are over the families in their care; in the family, husbands are over wives, and together they are over children. (Ephesians 5:22 – 6:4, 1 Corinthians 11:3, 1 Peter 5:1-4). All authority on earth comes from our Sovereign God. We read in Romans 13:1-2 (New International Version)
"Let everyone be subject to the governing authorities, for there is no authority except that which God has established. The authorities that exist have been established by God. Consequently, whoever rebels against the authority is rebelling against what God has instituted, and those who do so will bring judgment on themselves."
The same truth is shown in Daniel chapter 4 where God humbles the proud Nebuchadnezzar. We read in Daniel 4:17 (New International Version)
"know that the Most High is sovereign over all kingdoms on earth and gives them to anyone he wishes..."
All authority is assigned by God and those in authority are accountable to God.
With authority comes accountability and responsibility. These are the primary definers of authority, not control. The key concept of delegated authority is not that "I'm the boss," but rather that "I'm responsible and accountable." To be in authority in any environment (workplace, home, church, etc.) means that someday you must give an account to God because it is He who has given that position to you to steward for His glory. God always intends for us to primarily use our authority to glorify Him. The second thing it accomplishes is to bless and protect those who fall under it. And there's an additional bonus; if we seek to be in the Master's will by blessing and protecting those under our authority, we will be rewarded (Luke 12:42-48; 20:9-16).
Another defining attribute of authority is that it does not imply superiority. 1 Corinthians 11:3 (English Standard Version):
"But I want you to understand that the head of every man is Christ, the head of a wife is her husband, and the head of Christ is God."
(See also, 1 Corinthians 15:27-28.)
If authority meant superiority, then God would be superior to Christ, and each person in the Trinity would not be an 'equal' person. This is not true, obviously. Authority defines roles. It is God's framework for giving each role its defining responsibilities.
When authority is embraced according to God's plan, it provides blessing and protection to those under it. Much like the blessing of a beach umbrella on a hot summer day, it produces an environment where submission is made to be the easiest and safest choice. It creates a place of safety and refuge for those under you. A covering of grace, like the wings of God (Psalm 91), like a beautiful covenant umbrella; authority casts its rainbow of blessing over all those who, by God's design, are called to live beneath it.
Chris McMahan
Email:
Happy1970@icloud.com